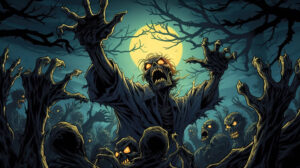 Are you ready to start the spooky season? When you are getting into the spirit of Halloween, stop by our shop and find a new scary comic. With our selection of wild graphic novels, comics, and manga, you can be ready for pumpkin carving and picking out your costume. If you just aren't finding what you are looking for when you search online, come spend some time with us!
At Black Cat Records and Comics in Dallas, TX, it is finally time for those horrible stories to keep you up at night. Whether you are into something traditional or a little more out there, our shop can help you to find something that speaks to you. While you are here, take some time to check out our collection of vinyl, and we have soundtracks from all your favorite horror films. And on October 29th, come jangle your bones to some gnarly tunes from New Avenues, Ceci Ceci, and Tinygxd at our Halloween party, right here at the shop!
What Kind Of Story Do You Like To Read By Twilight?
When it comes to Halloween stories, what are you into? For some, vampires are the quintessential supernatural phenomenon that gets the blood pumping. Others like to wrap themselves up in their blanket and read about mummies coming to life. Regardless of your favorite flavor, Black Cat has you covered. Come swing by our shop and check out all of our options!
Keep The Kids At Home For These Scary Comics
During Halloween season, it's time to break out the real gnarly stuff. This time of year is perfect for adults-only stories, and you know that we love giving you wild suggestions. Ask our team about finding a gritty graphic novel that you can read while the kids are out trick-or-treating. There is always something spooky coming out of Japan, too, so be sure to talk to us about manga, if that's more your style.
Pick Up A Record For Your Next Halloween Party
If you love the dark and minimal synths of John Carpenter soundtracks, we can make sure that you have something creepy to share with your friends. From campy schlock to classic horror, everyone has something that they love to spin around Halloween. This time of year, these can move quickly, so be sure to check out our Discogs page to keep up to date with what we have in stock.
Be Ready For Halloween With Black Cat Records 'N' Comics!
It is the perfect time of year to brush those spiderwebs off your record player. Find a new horror comic or spooky soundtrack today at Black Cat Records and Comics in Dallas, TX. Stop on in or give us a call at (469)913-7079!