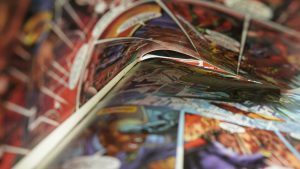 When most people hear the word "comics" they usually picture the flagship titles from DC and Marvel. While we love Spider-Man and Superman as much as anyone, we know this is only a small part of the world of comics. Along with the bigger domestic titles, Black Cat Records and Comics also carries a huge selection of Manga!
Second to None
Our collection is second to none. We have work available that spans decades, including hard-to-find foreign prints, and the latest from underground and indie publishers. Along with comics, we also have graphic novel collections, books, toys, shirts, and statues. If you're tired of the bare-bones Manga offerings at bookstore chains, or rifling for the diamond in the rough at used bookstores, then visit our store today.
Stop By Today!
If you want peruse a comic selection you've only dreamed of, then stop by today. Visit us today, or if you have questions, please call Black Cat Records and Comics in Dallas, TX at (469) 913-7079. We can't wait for you to stop by!