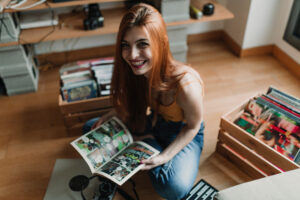 Are you tired of scrolling through the same old streaming services to find something to watch? Right now, there are two simultaneous strikes happening in Hollywood, with both the writers and the actors currently fighting for new contracts. That means that we may be waiting quite a while to see new shows and movies. If you are ready to find a story that keeps you enthralled, come down to our shop and find a comic book or graphic novel to keep you entertained.
At our comic shop in The Cedars in Dallas, TX, we are here to help you find amazing new characters that you can fall in love with. From traditional superhero stories to the newest in Japanese manga, we have something for every reader. Stop by our shop and feel the rush of the comic shop experience, with records, comics, and collectibles featuring all your favorite characters and stories!
Comic, Manga, Or Graphic Novel: What's Your Style?
When you come into the comic shop, where do you head first? For some people the idea of a consistently running publication helps them to latch onto a story and start to follow it. If this sounds like you, then a comic book might be the place to start. Whether you are into superheroes or something a little stranger, we can help you to find something truly interesting that keeps you coming back for more.
Other people enjoy a more contained storyline, and we might suggest a graphic novel for these readers. These are essentially what they sound like, which is a novel that is heavily illustrated throughout. Graphic novels may resemble a comic book in many ways, but the distinction is important. Some readers prefer one over the other, and for a variety of reasons. It's just a matter of your taste!
Keep Yourself Entertained During The Writing And Acting Strikes
You might have noticed that the release dates of some of your favorite new movies have been pushed back due to the ongoing strikes by writers and actors. As both the talent and the studios have started to dig in, you might be looking for a way to stay entertained. Even if they were to agree on a contract right now, productions have been halted, meaning it will take some time. Find something new at your local comic shop while we wait for the two sides to come to an agreement!
Find A Story You Love At Black Cat In Dallas, TX
Are you looking for a new storyline and are just coming up short whenever you log into your streaming services? Come spend some time down at your local comic shop at Black Cat Records and Comics in Dallas, TX. Stop on in or give us a call at (469)913-7079!