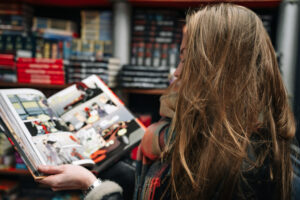 When you want to sink deep into a magical world far away from here, comic books provide an avenue for your imagination. These days, there are more options than ever in finding something unique, as publishers and creators are crafting new and exciting formats for storytelling. If it has been a while since the last time you were in a comic shop, you might be amazed at all of the new possibilities!
At Black Cat Records and Comics in Dallas, TX, our goal is to help you escape the everyday with an awesome new comic, and we have a wide array of different options. From your child's first comic book to subject matter that is best left to adults, you are bound to find something that can expand your imagination. We also keep a huge selection of manga, so if you are searching for a way to continue your love of Japanese art from anime fandom, we can open you up to a whole new world of nerdiness. Come fall in love with that special new comic or graphic novel today!
Familiar Nostalgia And Exciting New Stories, We Have It All
Over the last few years, there has been a real push in comic fandom, and nowadays, people recognize this artform's possibilities much more than in the past. This means that in both format and story, you have more freedom in what you can find. If you are searching for something new and fresh, artists and writers are making many unique things to share with the world. You just have to know where to look!
At our shop, we have titles that can expand your concept of what comics can be, and we also have those old timeless favorites that you just can't quit. If you are feeling nostalgic, come check out our options in traditional superhero tales.
Comic, Trade Paperback, Or Graphic Novel: What's Your Style?
When you come into the comic book shop, what do you gravitate toward? Everyone is different, and that is one of the most amazing things about being a fan of this artform. For some, the consistency of a long-running publication offers the chance to follow along with the storyline as it happens. Others like a more contained story, with a more defined structure, and for these people, a trade paperback or a graphic novel may be the way to go.
Find An Enthralling New Story At Black Cat Records & Comics In Dallas, TX
Are you sick of scrolling though streaming sites trying find something interesting to watch? Come search though our amazing selection of comics, trade paperbacks, and graphic novels to find something truly special. Stop by Black Cat Records and Comics in Dallas, TX or give us a call at (469)913-7079!