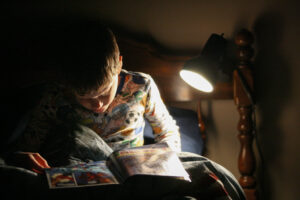 Do you remember the first time that you had the chance to open up a brand-new comic book from a local shop? That feeling was certainly magical, was it not? Or if you discovered a pile of old comic books in the back of the attic and just fell in love with the characters and the fantastic storylines, you might still remember the smell of those vintage editions. No matter how you come to love comic books, when you are a parent, be sure that you give your child the opportunity to uncover a world of positive reading and imagination!
At Black Cat Records and Comics in Dallas, TX, we can help you to show your little one the fantastic world of comic books and graphic novels. With selections for all ages, there is something here that will capture the mind of your child, giving them a world that they can fall in love with. If you are searching for a way to keep them off of their screens, as well, you can use this opportunity to use their favorite superhero characters as a tool in their reading development!
If Comics Are Special To You, Share This Experience With Your Child
When you were a child, how did you come to fall in love with the magical world of comic books? Did your parents pick up a copy for you, or did you discover their old collection? For many of us, this experience holds an important place in our hearts and memories.
If your time spent under the covers with a flashlight and an exciting comic was valuable for your development, make the effort in giving your little one that same opportunity. Show them the wonder and possibility that comes with picking out a new comic book at a local shop.
Shopping With Your Child Allows You To Stay Up To Date With The Latest Editions
Let's face it: one of the most fun parts about being a parent is having the chance to relive the excitement of our younger years. When you bring your child in, absorb some of their excitement in the comics and graphic novels that you love!

Our shop has options for readers of any age, so while they are looking for something to keep them entertained, find your next favorite story. Our selection of roleplaying and table games can also be a great way to bond with your child without the need for more screentime.
Share Your Love For Comics With Someone Special At Black Cat
When you want to give your child an experience that they will never forget, show them the magical world of comics and graphic novels. Stop by Black Cat Records and Comics in Dallas, TX or give us a call at (469) 913-7079!