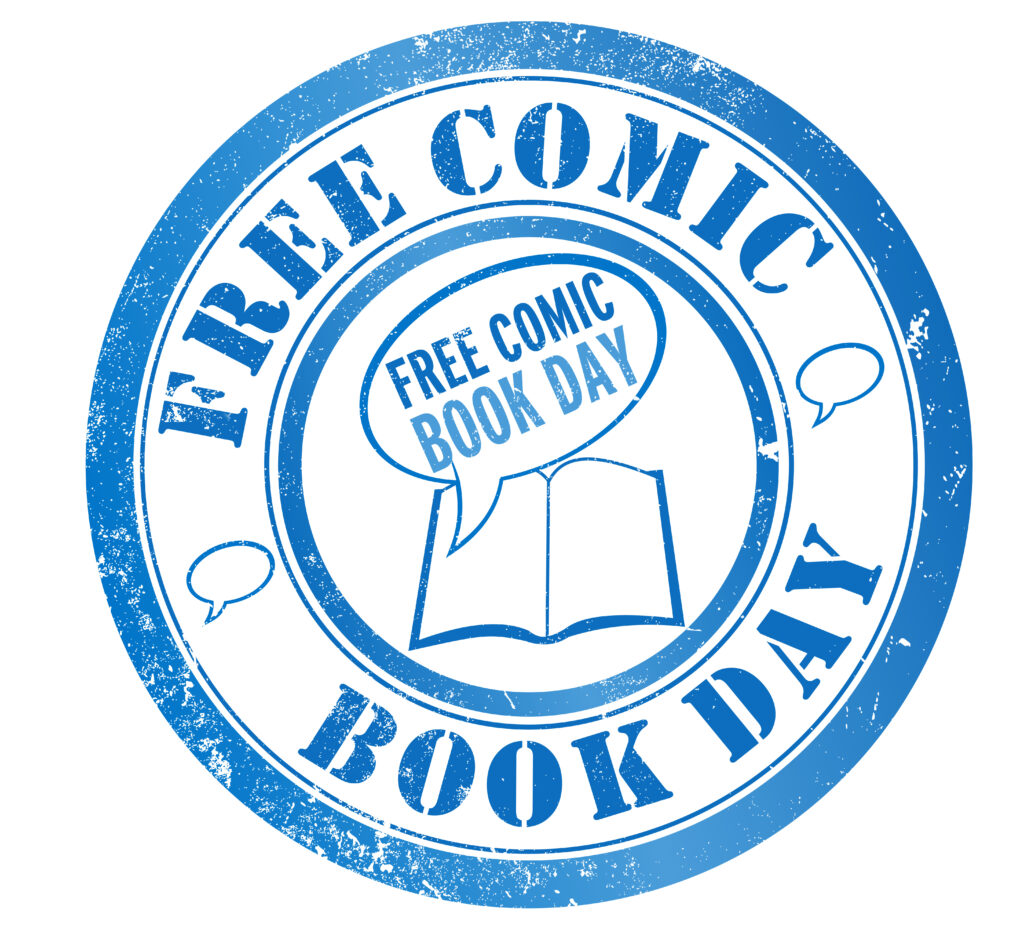 Saturday, May 6th is the greatest holiday of all: Free Comic Book Day! There will be free issues from amazing publishers like DC, Boom, Marvel, IDW, Image, and more. We hope to see you there, Black Cat Records and Comics in Dallas, TX, will even have a special guest present, so don't miss out!
Free Comic Book Day
We'll be celebrating Free Comic Book Day on Saturday, May 6th! You can pick up free issues provided by several different publishers. Often, these are fun standalone titles, while others give you a sneak peek at major upcoming storylines. Like a reputable drug dealer, this is a chance for publishers and stores to get you hooked with a free dose. Then you come back for more. Jokes aside, we hope to see you Saturday! This is a big day for comic book stores, and we want to make it an event. We'll be open from 11am until 9pm, so there is plenty of time to stop by.
Meet Andy Hirsch
We're proud to have Andy Hirsch as our guest cartoonist/author/illustrator for the big day! He's the creator of The Baker Street Peculiars and Varmints. He'll be at the store for the first few hours of Saturday, so you can meet him and maybe pick up a few of his titles while you're at it! A note: Be sure to keep a close eye on our Events page and social media accounts, as we often have artists, writers, and other creators come in for Q&A events, and we would hate for you to miss out!
Manga and Other Collectibles
You're going to love our selection. We have tons of new titles from major publishers like DC, Image, and Marvel, as well as Boom, IDW, and tons of indie companies as well! You can also find a serious selection of back issues in our long boxes. We also have graphic novels, manga, and collectibles like toys, action figures, figurines, Funko POPs, board games, puzzles, and more. We're your one stop shop for all things nerd and pop culture related.
If you have any questions about these events, or about our selection, then give us a call. Or better yet, stop by! We're open six days a week, from Tuesday through Sunday, and vinyl shoppers can make an appointment to see stock on Monday.
Visit Your Dallas, TX Record Store Saturday!
Our team hopes to see you on Saturday! You can contact Black Cat Records and Comics in Dallas, TX, by calling (469) 913-7079. Our store is open from Tuesday through Thursday, 11am until 7pm, and Friday and Saturday from 11am until 9pm. We're open Sundays from noon until 6pm. Record shoppers can make appointments for Monday.