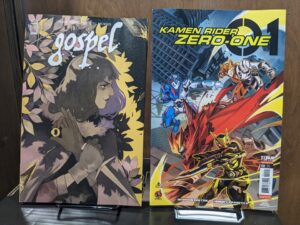 Each Wednesday, we add new issues to our shelves, including the big DC and Marvel titles, as well as Image and indie comics too. In fact, you may be shocked to see just how expansive our selection actually is! In today's blog, Black Cat Records and Comics in Dallas, TX, is taking a look at some of our newest additions.
Our Latest Issues
We added a ton of new titles this week, and these are just a sampling! You can pick up Batman: The Adventures Continue Season three, Dark Ride issue four, and Batman and The Joker: The Deadly Duo Book three. We also have The Dead Luck number five, the first Black Cloak, and Blue Beetle Graduation Day issue two of six. You can grab the latest Doctor Strange, the fifth issue of End After End, and the third issue of Gospel. We also have Kamen Rider Zero-One number two!
Back Issues and More
We also have plenty of long boxes filled with back issues! You can find the storylines from your childhood, fill in the gaps in your collection, or discover new titles and artists. If you're watching a comic book movie or show and want to see the stories that inspired them, we can help you find them. In addition, we have graphic novels and omnibuses as well, so you can pick up completed stories and deep dive your favorite characters.
Manga
If you love manga then you're going to love our selection. We have decades of storylines available, with tons of different titles and also related collectibles, such as shirts, books, toys, figurines, and more.
Events
Whenever a comic book movie comes out, we often have a popup shop at a nearby Alamo Drafthouse, with tons of comics and collectibles related to the movie. We did this for Spider-Man: No Way Home and Wakanda Forever. So, be sure to keep an eye on our Events page on our website, and on our Facebook page. In addition to popup shops, we also have live musical performances, holiday parties, and even meet and greets with creators like Drew Edwards of Halloween Man fame.
If you have any questions about our selection, or about any upcoming events, feel free to stop by or give us a call!
Be Sure to Visit Your Dallas, TX Record Store!
Stop by every Wednesday to see what else we've added to the shelves! To learn more about the books we have available, then you can contact Black Cat Records and Comics in Dallas, TX, by calling (469) 913-7079. Our store is open from Tuesday through Thursday, 11am until 7pm, and Friday and Saturday from 11am until 9pm. We're open Sundays from noon until 6pm.