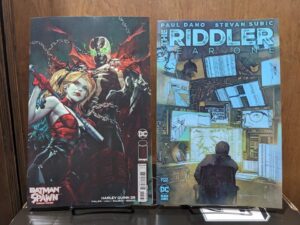 The holidays are finally behind us, and for many people that means gifts of cash and gift cards burning a hole in their pockets. We would like to help in this time of need! If you need a rewarding way to spend your holiday cash, Black Cat Records and Comics in Dallas, TX, has comics, manga, records, and more.
Comics
Every week we're bringing in tons of new comics! We have the big titles from DC and Marvel, as well as indie comics, graphic novels, and foreign prints too. You can go through our long boxes of back issues to catch up on past storylines or fill in the holes in your collection. If there is something you're looking for that we don't have, let us know! We can likely order it for you.
Manga
You're not going to find a larger selection of manga in Dallas. We have books spanning decades of storylines, and we're always bringing in new titles, including classics and new storylines too. You can also find tons of related collectibles, like toys, figurines, and more.
Records
If you love vinyl, then you need to check out our stock. We have classic albums, new releases, and tons of genres you may not have considered, such as lounge, exotica, surf rod, Polynesia, and Japanese pop. We have listening stations so you can listen to your albums before you purchase, and we're also spinning new sounds from our team members in store every week. You can also see some staff selections on our homepage. If you don't have a turntable, then we have some in stock to get you started. What better resolution could you make for 2023 than to get way too far into vinyl?
Collectibles
No matter where your pop culture obsession lies, we have something to sell you. Seriously, we have action figurines new and old, figurines and statues, POP vinyls, books, pins, stickers, and shirts. We're open six days a week, and vinyl shoppers can make an appointment to see our stock on Monday too. Come see us today, and put your holiday cash to its best possible use. If you have any questions about our store or selection, give us a call or stop in anytime.
Discover Something New at Your Dallas, TX Record Store!
Don't waste your holiday money on something useful or necessary, buy records! To learn more about our epic selection of comics, records, toys, board games, and more, then you can contact Black Cat Records and Comics in Dallas, TX, by calling (469) 913-7079. Our store is open from Tuesday through Thursday, 11am until 7pm, and Friday and Saturday from 11am until 9pm. We're open Sundays from noon until 6pm.