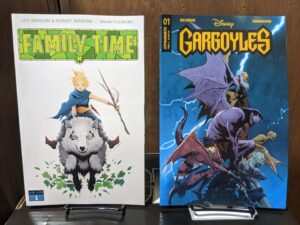 Yesterday we added tons of new titles to our comic selection, and we have an amazing back issue selection too. Which means if you're struggling to find something for your friend or family member, we can help! In today's blog, Black Cat Records and Comics in Dallas, TX, is talking about our latest selections, and our upcoming December Meet and Greet!
Our Newest Selections
Yesterday, we added several new titles to our shelves. These are just a few of the new works we got in this week, so be sure to stop in and see everything we have available! You can now pick up Dynamite's Gargoyles #1, Family Time issue #1, and Earthman. We also have the 4th issue of End after End, Golden Rage, and Hellboy in Love issue #2 of 5. We also added Good Boy: Prodigal Son, volume 3 issue 1, and the first issue of Hexware. You can pick up Kaya #3, and A Legacy of Violence #2. Plus, Little Monsters issue 8! We have indie comics, foreign prints, and even underground comics too. Plus, we have your favorite DC and Marvel flagship titles as well.
Back Issues, Manga, and More
In addition to our newest titles, we have tons of back issues for you to look through. You can catch up on classic storylines, or fill the gaps in your collection. If you like manga, we have a selection that spans decades of storylines. We also have graphic novels and books, as well as a host of other collectibles. You can find board games, figurines, toys, action figures, statues, pins, shorts, and more. No matter what corner of the pop culture world your obsession lies, we have something on our shelves just for you. Plus, if we don't have it, then we can likely order it in the future!
Our December Event
On December 18th we're having another meet and greet with writer and artist Drew Edwards. Known for creating Halloween Man, he will be doing a talk on Christmas monsters, with the meet and greet happening right after. The event takes place from 2pm to 3pm at our store, and there will be plenty of copies of his work available for purchase!
If you have any questions about our stock or about upcoming events, then please contact our team today to learn more.
Pick Up Your Gifts at Your Dallas, TX Record Store!
The holiday season is here, and we have plenty of awesome gifts! To learn more about our newest comics and graphic novels, then you can contact Black Cat Records and Comics in Dallas, TX, by calling (469) 913-7079. Our store is open from Tuesday through Thursday, 11am until 7pm, and Friday and Saturday from 11am until 9pm. We're open Sundays from noon until 6pm.