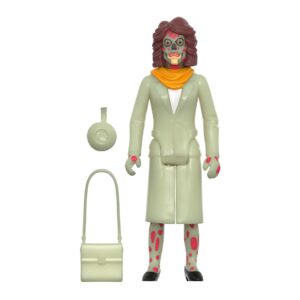 With the holiday season around the corner, you need to find some fun and unique gifts for your friends and family. Well, Black Cat Records and Comics in Dallas, TX, can help! In today's blog, we're looking at some new collectible figurines we've added, and we're talking about a meet and greet event later this month! December is going to be a big month, so keep a close eye on our blog (and you know, our website and social media).
Our Latest Additions
We've added a number of statues and figurines to our selection. For example, Nendoroids fans can pick up Jojo's Bizarre Adventure Stone Ocean Jolyne Cujoh, and the Ronin version of Witcher's Geralt. For John Carpenter fans and lovers of 80s horror, we have some epic They Live action figures. These are retro looking 3.75inch action figures from Super7. Each has five points of articulation, and includes blister cards!
We also have some incredible Hol Horse action figures from JoJo's Bizarre Adventure! The Stardust Crusaders Hol Horse Chozokado figure is 6 inches tall and is also fully posable! Includes alternate hands, expressions, a pistol, and bullet effects.
Finally, be sure to check out the new Dragon Ball action figure line from Bandai Spirits Ichibansho. These Fear Androids figures are incredibly detailed, and also limited to only 800 pieces, so don't miss out! Each one is over nine inches tall and are currently sold out at the distributor!
Along with our new action figures, we also have tons of other collectibles, from action figures and statuettes, to pins, stickers, shirts, books, and of course, Funko POP vinyls. You can also peruse our extensive comic and manga collection, and if you want to start collection vinyl, we have turntables to get you started!
A Meet and Greet Event
We have a few fun events taking place in December, starting with a Meet and Greet event with Drew Edwards, creator of Halloween Man. Drew will be talking about Christmas monsters, and there will be a chance to meet and talk to Drew afterward. Of course, we'll have plenty of his comics on hand to purchase! The event takes place on Sunday, December 18th from 2pm until 6pm.
If you have any questions about our newest additions, or about any upcoming events, then please contact our store or even better, stop by!
Time to See Your Dallas, TX Record Store!
We can help you find a truly memorable gift for that special someone on your list! To learn more about our latest additions to our stock, then you can contact Black Cat Records and Comics in Dallas, TX, by calling (469) 913-7079. Our store is open from Tuesday through Thursday, 11am until 7pm, and Friday and Saturday from 11am until 9pm. We're open Sundays from noon until 6pm.