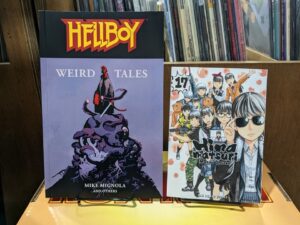 We always have something new being added to our shelves, including comics, records, and tons of collectibles. We're also setting up fun events for later this month and in December. In today's blog, Black Cat Records and Comics in Dallas, TX, are talking about what's new in store, and why you should visit soon! We're open six days a week, and we're the best spot for holiday shopping for the nerds in your life!
New Comics
We have so many new titles arriving this week! We have Batman One Bad Day: Mr. Freeze #1, Harley Quinn The Animated Series: Legion of Bats #2, Nightwing #98, and Wakanda issue two. We also have the latest Blade: Vampire Nation and DC vs. Vampires. Other new titles include:
Door To Door Night By Night #1
The Flash #788
Frankenstein New World #3
I Hate Fairlyland #1
Maskerade #3
Namor #1
Phantasmagoria #3
She-Hulk #8
Spider-Man: The Lost Hunt #1
Gold Goblin #1
Thunderbolts #4
Ultraman: The Mystery of Ultraseven #4
Graphic Novels and Manga
We've also added to our graphic novel and manga selection too! You can pick up Hellboy: Weird Tales, Hinamatsuri Volume 17, and Heavenly Demon Reborn! Volume 1. Other new titles include:
Heavy Metal Drummer
Free Life Fantasy Online: Immortal Princess Volume 2
Go! Go! Loser Ranger! Volume 1
Avant Garde Yumeko
Canis Dear Mr Rain
Darling in Franxx Omnibus Volume 1
I'll Never Be Your Crown Princess Volume 2
Records
Our vinyl selection is growing too! We've added Ultra Mono, Joy as an Act of Resistance, Crawler (in Deluxe Edition too), and Brutalism by Ides. We also added Television's Marquee Moon (clear), Epic Garden Music white vinyl by Sad Lovers and Giants, Lou Reed's World and Music May 1965 (in yellow and black vinyls), the pink vinyl of Magic by Nas, LDF and Javonntte's How We Groove EP, and My Morning Jacket's Live in Chicago '21 Volume Two.
A Secret Sale
Keep an eye on our Events page and Facebook for word about upcoming events! We'll be closing at 5pm on November 23rd, and will be closed on Thanksgiving. We plan on having normal business hours for black Friday! If you have any questions about our selection or any events, then don't hesitate to reach out or even stop by for a visit.
Make Time to Visit Your Dallas, TX Record Store!
We always have new items and events on the horizon, so stop by anytime! To learn more about our selection of games, collections, and more, then you can contact Black Cat Records and Comics in Dallas, TX, by calling (469) 913-7079. Our store is open from Tuesday through Thursday, 11am until 7pm, and Friday and Saturday from 11am until 9pm. We're open Sundays from noon until 6pm.