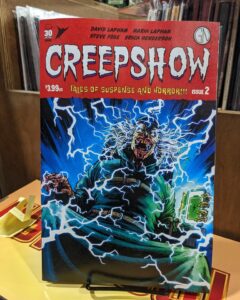 Each week, we add new records, comics, and collectibles to our shelves. With Halloween days away, we've added some new titles sure to get you into the Halloween spirit. Not to mention our upcoming Halloween party! In today's blog, Black Cat Records and Comics in Dallas, TX, talks about our new collectibles and events, and the exciting performances you can expect at our Halloween party on Saturday!
New Comics and Manga
We have some fun spooky additions to our shelves! This week, we added Army of Darkness vs. Reanimator #4, Detective Comics #1065, and Harley Quinn #23. We also have the first issue of Riddler Year One, the second issue of Tim Drake Robin, and Punchline: The Gotham Game #1. You can pick up the fourth issue of Blink, Creepshow issue 2, and The Return of Chilling Adventures in Sorcery one shot. Plus DC Mech #4! We're also adding new manga, games, statues and figurines, and tons of other collectibles. You can also check out our expansive record collection, and we even have turntables for sale to get you started. Whatever small corner of pop culture you obsess over, we likely have just what you need for your collection!
Halloween Party
On Saturday, we're hosting an epic Halloween party in our store! Just stop by 971 Botham Jean Boulevard at 1pm. There will be food, games, and other fun surprises! Plus, performances from local acts, including New Avenues, Cei Cei, and Tinygxd. Live music and plenty of spooky fun, so don't miss out!
Upcoming Events
Be sure to keep an eye on our Facebook page and our Events page on our website. We're often hosting fun events in-store throughout the year. We've held signings from comic artists, record release parties for local bands, and live performances. We also have popup shops at Alamo Drafthouse, usually for the latest comic book movie release. You can also find us at flea markets and other events too. We hope to see you soon!
We're open six days a week, Tuesdays through Saturday, and on Mondays vinyl shoppers can arrange for an appointment to view our selection. If you have any questions about events or items we have in stock, or items you would like us to order, then stop by or give us a call soon!
Visit Your Dallas, TX Record Store Today!
We always have something new in store, or a fun event on the calendar. To learn more about the latest additions to our store, then you can contact Black Cat Records and Comics in Dallas, TX, by calling (469) 913-7079. Our store is open from Tuesday through Thursday, 11am until 7pm, and Friday and Saturday from 11am until 9pm. We're open Sundays from noon until 6pm.