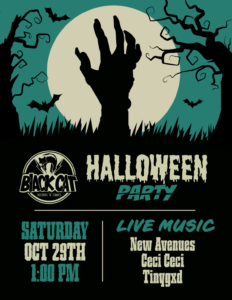 Every week, we're adding new records, comics, manga, and other collectibles to our epic selection! We're also hosting fun events too. In today's blog, Black Cat Records and Comics in Dallas, TX, are talking about the latest addition to our stock, and about our upcoming Halloween party (which you should absolutely attend).
New Selections
We've added a ton of great comics this week! You can pick up Amazing Spider-Man 11, and AXE Eternals and AXE Iron Fist 1. We have Captain Marvel 42, Fantastic Four 48, Gambit 4, and Ghost Rider 7. You can pick up Immortal X-Men 7, Legion of X 6, and Namor the Sub Mariner 1. That last one is a great way to get a little caught up on a popular Marvel character before the Wakanda Forever debuts!
For our vinyl selections, we have a bunch of new additions too! If you like Beach Bunny, we've added the color vinyls of Blame Game, Emotional Creature, Honeymoon, and Prom Queen. For Beach House listeners, we have Depression Cherry, 7, Devotion, and the color vinyl of Once Twice Memory. Our store also has Bjork's Fossora!
A Halloween Party
Mark your calendars, because our Halloween party will be here before you know it! You can party with us on Saturday, October 29th at 3pm. Our store is located at 971 Botham Jean Boulevard. We will have live music, featuring New Avenues, Ceci Ceci, and Tinygxd! Plus, tons of other surprises. This is one Dallas event you definitely don't want to miss out on.
New Events
This month we've hosted a Q and A with an awesome comic book creator, a record release party, and we have a Halloween party coming up. Not to mention our frequent popup shops at local flea markets and Alamo Drafthouses. You should keep an eye on our Facebook and Instagram pages, and also our Events page on our website! We'll have events next month too, and you don't want to miss out.
If you have any questions about our upcoming events, or about our stock, then give us a call or better yet, stop by! We're open six days a week, and on the Mondays we're closed, vinyl shoppers can arrange for a visit. We hope to see you soon!
Visit Your Dallas, TX Record Store Soon!
Be sure to keep an eye on our Facebook and Instagram pages to see our new selections. To learn more about any upcoming events or shows, then you can contact Black Cat Records and Comics in Dallas, TX, by calling (469) 913-7079. Our store is open from Tuesday through Thursday, 11am until 7pm, and Friday and Saturday from 11am until 9pm. We're open Sundays from noon until 6pm.