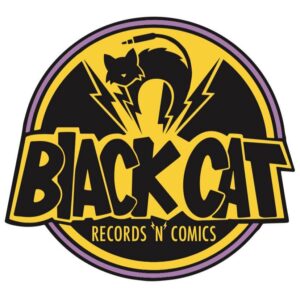 We have an amazing team in our store, who are just as obsessed with music, comics, and all things pop culture as you are! Which is why we would like to take the opportunity to introduce you to our newest team members at Black Cat Records and Comics in Dallas, TX: Solomon and Jacob!
Meet Solomon
Solomon just joined our team, and a few favorite comics include The Goon, The Maxx, and Lenore. Solomon also appreciates the insanity of Texas Chainsaw Massacre 2, and favorite record picks include The Gorillaz's D Sides, The Cramp's Stay Sick, John Henry by They Might Be Giants, Pink Floyd's The Wall, Tom Waits' Bone Machine, Bites by Skinny Puppy, and Nick Cave's Henry's Dream. Solomon's prized collectible is a Dawn of the Dead poster signed by George Romero and a collection of post mortem photographs from the 1800s. If you're interested in a deep dive, Solomon recommends Anita Lane's Harley Davidson EP. As for a Holy Grail item, Solomon is always on the look out for an original Daniel Johnston tape with a hand-drawn cover.
Meet Jacob
Jacob is our latest Sales Associate, and his favorite comics include The Invisibles by Grant Morrison. Jacob's favorite movie and record are Nacho Libre and Transgender Dysphoria by Against Me!. He collects She-Hulk and Wonder Woman memorabilia, and his deep dive recommendation is FrankenRocker by The Jailbait Punks. Jacob's Holy Grail item is a Sensational She-Hulk omnibus signed by John Byrne. When he's not at work, Jacob's favorite thing to is getting his head kicked in a punk shows!
Stop by Soon!
We would love for you to meet our incredible team, so stop by for a visit soon. We're open every day of the week except Monday, and on that day you can still make an appetent to see our vinyl selection. We have an insane selection of comics and manga, as well as other collectibles like toys, action figures, statuettes, busts, pins, games, books, and more. We even sell turntables if you've been interested in vinyl but don't have a record player.
If you have any questions about how our selection, then give us a call! You can also follow us on Facebook and Instagram to see the new additions to the store, and to watch out for upcoming events and serial appearances!
Visit Your Dallas, TX Record Store Today!
We would love to help you find your next pop culture obsession. To learn more about our team and what we have in stock, then you can contact Black Cat Records and Comics in Dallas, TX, by calling (469) 913-7079. We also have new operating hours! Our store is currently open from Tuesday through Thursday, 11am until 7pm, and Friday and Saturday from 11am until 9pm. We're open Sundays from noon until 6pm.