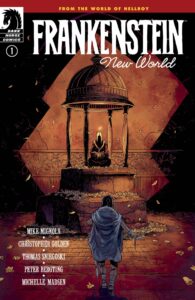 September just started, which means for most of us we're starting to celebrate the Spooky Season. Why wait for October? So, if you need some records, comics, or graphic novels dealing with all things creepy and horror, you should stop by! Black Cat Records and Comics in Dallas, TX, has everything you need to celebrate the spooky season.
Comics and Manga
Looking for eerie stories? We can help you find the best spooky titles from your favorite characters, and also hook you up with killer indie comics too. The same goes with our manga selection, with spans decades of the artform! Comics and manga have a long history of horror content, and we can find the stories and artists you're looking for. In addition to new titles, we also have back issues, graphic novels, books, and more.
Novelty Records and More
Our record collection includes soundtracks from horror films, novelty albums, and music from bands who embrace the darkness. You can talk to our knowledgeable team about what you're looking for, or you can look at our selection on our Discogs page and even order from there. Although, why would you miss a chance to visit our store? If you don't have a turntable, good news! We have some available for sale, so you can leave with everything you need to enjoy your new purchase. Vinyl now outsells every other physical media, and there's a very good reason its lasted as long as it has!
Collectibles
We also have tons of action figures, statues, busts, board games, and even pins and shirts. Our collectible selection is second to none, and what we don't have in stock, and can likely order for you. Come check it out in person, or keep an eye on our social media pages, we're adding new stock all of the time and showing offer whenever we can. With that in mind, also watch out Events page too. We have popup shops across DFW, and will soon be hosting fun events and performers in-store. We also have occasional giveaways, like our recent giveaway of Coheed and Cambria tickets. If you want to learn more, please give us a call, or better yet, a visit!
Visit Your Dallas, TX Record Store Soon!
We have tons of fun and unique collectibles for you to pick up, especially if you're looking to add a little spooky to your shelves! To learn more about our collectibles and more, then you can contact Black Cat Records and Comics in Dallas, TX, by calling (469) 913-7079. We also have new operating hours! Our store is currently open from Tuesday through Thursday, 11am until 7pm, and Friday and Saturday from 11am until 9pm. We're open Sundays from noon until 6pm.