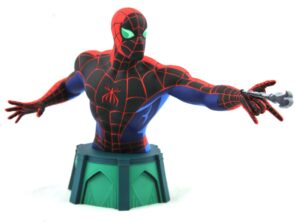 We love all things pop culture, and have an expansive collection of collectibles for you to see! Whether you like action figures, figurines, or comic books and manga, we have something on hand for you to see. In today's blog, Black Cat Records and Comics in Dallas, TX, talk about our selection of collectibles, comics, manga, and vinyl!
Collectibles
Each week, we bring in new items to add to our extensive stock of pop culture collectibles. You can find minifigs, POP vinyl, figurines, action figures, and even busts and statues. We also have board games, pins, buttons, stickers, shirts, and books too. No matter where your pop culture obsession lies, you're going to find something you like! If you're after a certain item, let us know and we can order it for you.
Comics and Manga
Let's talk about comics! We have the big titles from DC and Marvel, in both individual issues and graphic novels. But we also have a crazy selection of indie titles and foreign prints too. There are so many amazing voices and artists in the world of comics, and we would love to help you find the issues that speak to you. Now our manga selection is second to none. We have a huge selection that spans decades of storylines and titles and again, if we don't have it, we can likely order it! You can fill the gaps in your collection or start a new story without throwing money at Bezos' rocket fetish.
Vinyl Records
Last week we showcased a ton of records featuring great Texas artists in just about any genre you can imagine. We have those, and much more, in stock. We love the chance to introduce our customers to new genres and artists.  Be sure to check out our selection in person or through our Discogs page. You can also look at our website to see our staff selections or visit our Facebook page to see what we're spinning in store each week. Not only can you buy records, but we have turntables available too.
If you have any questions about our selection, then give us a call or feel free to stop by! You can stop by from Tuesday through Sunday, 11am until 6pm. See you soon!
Make a Visit with Your Dallas, TX Record Store Today!
Our team has everything you need to build your pop culture obsession, so find the time to stop by soon! To learn more about the awesome items in our store, then you can contact Black Cat Records and Comics in Dallas, TX, by calling (469) 913-7079. Our store is currently open from Tuesday through Saturday, 11am until 6pm, so why not support your pop culture addiction and a small business all at once?