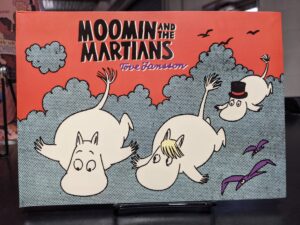 What started as a book series and comic strip in the 40s and 50s has grown to a phenomenon with theme parks in Finland and Japan. At Black Cat Records and Comics in Dallas, TX, we've recently added new editions of the graphic novels to our stock, and you can check out this whimsical, and at times, dark, series for yourself. There's a reason these stories have stayed so popular for so long!
A Worldwide Phenomena
The stories follow a central family of three hippo-like creatures, Moominpappa, Moominmamma, and Moomintroll, but also encompasses the whole of Moominvalley, with tons of popular characters like Little My, Sniff, Hemulens, and Snufkin. Throughout these stories, more characters get to know the core family and join in their adventures. The series was written and illustrated by Tove Jansson, and many of her characters were based on people she knew and despite the whimsical nature of the illustrations and stories, often dealt with war, depression, and other serious subjects. These stories are satirical, brilliant, and celebrate nature and diversity. There's a good reason they've maintained their popularity for over 50 years, and are celebrated worldwide.
Graphic Novels
We've recently added the graphic novels to our stock! You can revisit a childhood classic, or introduce yourself or your kids to these tales for the first time. Come check them out! We're open from Tuesday through Saturday from 11am until 6pm. We carry comics, graphic novels, manga, and stories from around the world.
Comics, Manga, and Other Collectibles
Keep an eye on our blog and social media pages! We're always adding new stuff to our store, from comics and graphic novels, to board games and collectibles. We even have turntables if you're finally ready to embrace vinyl! If you're looking for something niche, you could find it here. If we don't have it, we can order it for you! You can visit our store or look at our record collection online via our Discogs page. Also, we often have popup shops at Alamo Drafthouses and other venues, so be sure to check out our Events page periodically.
If you have any questions about our latest selections or what's on the horizon, then give us a call today to stop by! We look forward to seeing you.
See Your Dallas, TX Record Store Soon!
Our store has a truly astounding collection of comics and manga, including renowned stories from around the world, like the Moomins! To learn more about our latest books and graphic novels, then you can contact Black Cat Records and Comics in Dallas, TX, by calling (469) 913-7079. Our store is currently open from Tuesday through Saturday, 11am until 6pm. We're ready to help you find your latest pop culture obsession.