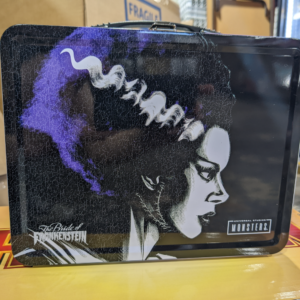 We're so happy to finally have our doors open, and we hope you find time to visit our store! We have a huge collection of comics and records, as well as a ton of other collectibles. In today's blog, Black Cat Records and Comics in the Cedar District of Dallas, TX talks about our selection, upcoming events, and more!
Collectibles
What good is having a desk or bookshelf if it isn't absolutely cluttered with all manner of collectibles? We can help make this dream a reality. Seriously, we have POP vinyl figures, action figures, statues, figurines, and more. Not to mention shirts, stickers, tons of board games, and more. If we don't have what you're looking for, then let us know! We're always happy to order something new for our customers.
Comics and Manga
Oh, we have comics. The latest issues, indie comics, underground books, foreign prints, and more. Our long boxes can help you fill the gaps in your collection, or catch up on classic storylines. Even if you've never picked up an issue before, we can help you find a book that absolutely speaks to you. If you're a manga fan, well good news, you've come to the right place. Seriously, we have decades of storylines available for you to choose from, plus tons of other related collectibles too.
Records
There is no better format for listening to music than vinyl. That's just science. Which is why we have such a vast selection! You can find new releases and classic albums, but we have genres that allow you to deep dive into new sounds, like lounge, rod, exotica, Japanese Pop, Polynesian, and even soundtracks and novelty albums. You can see them in person, or via Discogs online.
Fun Events
We've taken part in Free Comic Book Day, and we even had an epic $1 record sale! We also have Popup shops at Alamo Drafthouse, and will be inviting musicians, DJs, podcasters, and more to perform at the store. So, keep an eye on our Events page and our Facebook to see what is happening!
If you have any questions about our selections or any upcoming events, then give us a call, stop by from Tuesday through Sunday 11am to 6pm, or message us online.
Come See Your Dallas, TX Record Store Today
Our team has everything pop culture you need! To learn more about selection and what special events we have on the horizon, you can contact Black Cat Records and Comics in Dallas, TX, by calling (469) 913-7079. We're going to be open Tuesday through Saturday from 11 am until 6 pm, and will be closed on Sunday and Monday, so make an appointment today!