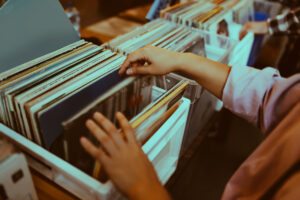 We get this question quite a bit. Why wouldn't we? We're only the best* comic book store and record shop in the country! At the moment, we're looking at opening our doors in May, as we're still finishing the last touches on our store. But in the meantime, you can make an appointment to see what Black Cat Records and Comics is offering the pop culture obsessed in Dallas, TX.
Schedule An Appointment
You can visit our store now by appointment only, at least until we complete construction. So, if you would like to see our vast selection in person, just give us a call. We will arrange a time for you to visit and do your shopping. You can also look at our record collection on our Discogs page, and even order form there and have albums shipped to your home. Be sure to keep an eye on our Facebook and Instagram pages for more announcements regarding our grand-opening!
Comics and Manga
We have a ton of new selects for you to choose from! In addition to the big names from Marvel and DC, we carry tons of indie comics too. You can also find underground and foreign prints as well. Our back issue selection is first rate too! No matter what you're into, the odds are that we have it in stock. If not, we can talk to you about ordering it. If you're into manga, we got you covered. We're obsessed, and our store carries decades of storylines, not to mention other collectibles. Speaking of it, we carry toys, action figures, POP figurines, shirts, books, magazines, and more. No matter where your obsession lies, we have it in stock and will gladly sell it to you. That is how stores like ours work.
Vinyl Records
Cassettes occasionally make the rounds for rare releases, and CDs pop up here and there. But vinyl is never going anywhere. Nothing compares the richness of the sound, nothing is compressed and stilted! We carry the latest albums, classic records, and tons of genres you may not have even considered. Seriously, we have novelty albums, soundtracks, Japanese Pop, Polynesia, Lounge, and Exotica just to name a few. We're always spinning new sounds in store, offering some niche staff selections, and we have spinning stations so you can check an album out before you buy.
Special Events
Keep an eye on our Events page and our social media! We're often hosting sales and when we open, we'll have in-store special events.
Give Your Dallas, TX Record Store a Call
Before you know it, we'll be throwing open the doors! To learn more about our selection, you can contact Black Cat Records and Comics in Dallas, TX, by calling (469) 913-7079. We're open Tuesday through Saturday from 11 am until 6 pm, and are closed on Sunday and Monday.