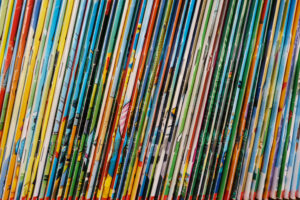 Have you been watching Moon Knight, and found yourself wanting to know more about this character? Now that Marvel and DC have mined every bit of gold they can from their A-listers, we're seeing adaptations of less known, and infinitely more interesting, characters. At Black Cat Records and Comics, we can help you find out everything you want to know about these characters with a wide selection of comics!
New Selections
We're always bringing in the latest issues, and not just the flashy titles from Marvel and DC! We also have indie comics, underground issues, and foreign prints too. If you're interested in a title that we don't carry, then let us know.
Back Issues
Like any comic book store, we have long boxes packed with back issues from a variety of different titles. You can catch up on older storylines, fill in the blanks of your collection, or learn more about characters popping up in streaming shows. Remember, comics aren't just about superheroes. There are so many incredible stories being told in any genre imaginable, and we can guide you to the perfect ones for you.
Manga
We love manga, and believe it or not, can be just as obsessive about it as you. We carry decades of storylines in our store, as well as related collectibles like toys, statues, books, and action figures. Again, if we don't have it, then we can order it. You don't have to rely on eBay or Amazon, you can support a small business and your manga obsession at the same time!
Schedule a Visit
At the moment, our doors are closed to the public as we finish the last touches on our construction. But! We can let you visit by appointment. Just give us a call at the number below, and we will arrange a time that is convenient to you so you can check out our selection. As the name implies, we have a serious record collection as well, so you can find the vinyl selections you're looking for. We have classic albums, but we also have genre deep dives.
If you have any questions about our store and our selection, then contact our team! You can also arrange for a visit to see it in person. Keep an eye on our Events page and our Facebook to learn more about upcoming events. We recently had a $1 record sale, and you don't want to miss out.
Talk to Your Dallas, TX Record Store
When our doors open, you can peruse our collectible collection! To learn more about our collectibles, you can contact Black Cat Records and Comics in Dallas, TX, by calling (469) 913-7079. We're open Tuesday through Saturday from 11 am until 6 pm, and are closed on Sunday and Monday.