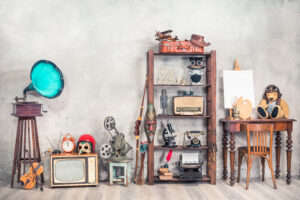 Right now, we're placing the finishing touches on our building, and we cannot wait to open our doors! We have a wide range of collectibles for you to see, from comics and manga to records, toys, and more. In today's blog, your good friends at Black Cat Records and Comics in Dallas, TX, will be hyping up everything we have to sell to you!
Toys, Action Figures, and More
Everyone has that one niche of pop culture that draws them in, and we certainly try to help every customer find theirs! We offer an array of collectibles, such as action figures, toys, statues, and even POP figurines. You can pick up books and novels too, and if we don't have it in-store let us know and we can order it for you! Which means you no longer have to follow eBay bids or watch your cash send Bezos on another sad rocket run.
Comics and Manga
We love comic books, and carry the latest titles from DC and Marvel, as well as underground and indie titles, and even foreign prints too. We have tons of back issues for you to check out in our long boxes, so you can catch up on classic storylines to fill in the gaps in your collection. But our manga selection is truly something to behold. We don't exaggerate when we tell you that we carry titles that span decades of the art form. You can find individual books and issues, and also collections and graphic novels. Be sure to check out our website to see our latest recommendations too!
Records
Vinyl is truly the best way to listen to your favorite music. If you're just starting to appreciate vinyl, we can help direct you to some classic albums and hard-to-find genre deep dives. If you're a true vinyl aficionada, when we have something for you in gernes you may never have considered before. You can check out some of our employee recommendations on our website, and see what we're showcasing on our Discogs pages. You can order from there too! When our doors open, you'll be able to check out our spinning stations to sample an album before you buy.
If you have any questions about our selection or opening date, or if you want to arrange a time to visit our store, we can help with appointments! Just give us a call to learn more.
Schedule a Visit With Your Dallas, TX Record Store
When our doors open, you can peruse our collectible collection! To learn more about our collectibles, you can contact Black Cat Records and Comics in Dallas, TX, by calling (469) 913-7079. We're open Tuesday through Saturday from 11 am until 6 pm, and are closed on Sunday and Monday.