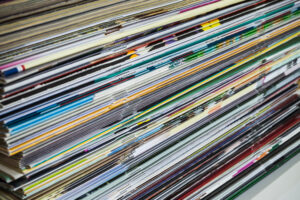 We're handling the finishing touches on our store and cannot wait to open the doors of our Dallas, TX, store, Black Cat Records and Comics. Until then, we would like to introduce our team of pop culture experts, the only people who may know more about records, manga, and comics than you!
Comics, Records, and More!
We can't wait for you to see everything we have in our store. For comic lovers, we have the latest flagship titles, as well as tons of back issues in long boxes, underground issues, and foreign prints too. We just got in a shipment of Spider-Punk, in fact! If we don't carry it yet, we can if you let us know what you're looking for. We also have a simply incredible manga collection that spans decades of titles and storylines. We also have tons of collectibles, from action figures and statues to POPs, shirts, and books.
For the music lovers, we have an unsettling amount of vinyl. You can find classic albums, new releases, and even hard to find genre selections. Seriously, we dare to come into our store when it opens with a genre we don't have. We would be impressed. You can visit our website to see what we're spinning in our store right now, and we'll have listening stations so you can check out an album before you buy it. You can also order online through our Discogs page too!
Meet Our Team
Meet Megan!
Megan is the boss, and the overlord behind Black Cat Records and Comics. She has an encyclopedic knowledge of manga and anime that could make Princess Kenny weep!
Meet Sabrina!
Sabrina manages the shop and orders our products! She loves indie books, mind shredding metal records, and indie comics!
Meet Toddy!
Our vinyl/Spidey expert and DJ, with a love of every genre from across the globe. He helps curate our selection with pristine grades and clean covers!
Meet Freddy!
The master of genre film pop culture, from Anvil to Zardoz! A lover of all things horror, Star Wars, and 80s hair metal.
Schedule an Appointment
Our store is a safe environment for people of all backgrounds, a place where you can indulge your pop culture obsessions without worry. While our doors are closed at the moment, you can call to schedule an appointment to see our stock, so give us a call!
Talk to Your Dallas, TX Record Store
Want to meet our team in person, then make an appointment to see us! To learn more about our pop culture selection, you can contact Black Cat Records and Comics in Dallas, TX, by calling (469) 913-7079. We're open Tuesday through Saturday from 11 am until 6 pm, and are closed on Sunday and Monday.