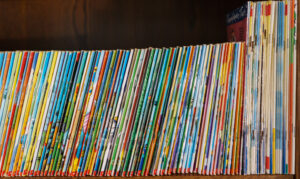 Looking for a new story to obsess over, or have you never really read comic books before? Then we can help you get started on an obsession that will consume you for the rest of your natural life! At Black Cat Records and Comics, we offer people in Dallas, TX, and nearby communities a massive selection of comics and manga to choose from. We're also having a huge sale this weekend!
Flagship Titles and Classic Storylines
Whatever you're looking for, we likely have it. Not bragging, just stating cold, hard facts. Of course, we have the latest flagship titles from DC and Marvel, but we also carry indie issues, underground releases, and even foreign prints. If you're interested in picking up the new Saga run, we have it. We also have plenty of popular titles like Spider-Man, as anyone who visited our pop-up stores when No Way Home came out can attest. We also have tons of back issues too, so you can fill in the holes in your collection, or catch up on classic storylines before they're adapted into movies. This way you can continue to be the "Well, in the comics, they…" guy at every Marvel or DCEU movie.
Manga
Our manga collection is second to none! Not only do we carry manga, but we have a passionate obsession with them that will make you feel better about your own obsessive levels. We carry storylines that span decades, along with books and other collectibles.
Other Collectibles
Speaking of other collectibles, we're more than just comics and a truly vast record collection. We have toys, figurines, statues, shirts, and even POP vinyl figures. We know you, POP vinyl collectors, we know you can't stop. It's a sickness and we're here to enable you.
Staff Picks
When you visit the store, or our website, you'll see our staff selections. You can find out what we're listening to in the store, and also check out the titles we're loving at the moment, such as The Promised Neverland, Black Clover, Transformers, Haikyu!!, and One Punch Man. Don't know what these are? You will. Love these titles? YOU'RE HOME.
Our Upcoming Sale
On March 26th and 27th we're having a huge sale! You can pick up discounted issues and $1 records. What more could anyone need? If you want more details, visit our website and Facebook page, or give us a call!
Contact Our Dallas, TX Comic Book Store Today
We have a huge selection of graphic novels, books, and manga, then check out our upcoming sale! To learn more about our manga and collectibles, you can contact Black Cat Records and Comics in Dallas, TX, by calling (469) 913-7079. We're open Tuesday through Saturday from 11 am until 6 pm, and are closed on Sunday and Monday.