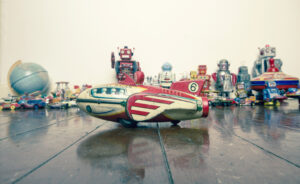 At Black Cat Records and Comics, our Dallas, TX, store has a number of collectibles, from comic books and manga, to a variety of vinyl record selections. In today's blog, we're looking at what we have in-store, and talking about live events and more. If you have someone hard to shop for on your list, then you may want to stop by our store! We have a little bit of everything.
Comics and Manga
Whether the comic collector in your life is a kid or an adult, we have a wide selection available to choose from! Want to get your kid caught up on Spider-Man before the new movie comes out? What about catching up on Saga before the issues come out or finally getting started on The Wicked+The Divine? We have this and more, from new issues to back issues. We also have a frankly impressive manga selection. Along with books, we also have toys, shirts, and other manga collectibles. We haven't even started on our foreign, indie, and underground comics!
Vinyl
We love vinyl, and are just as eager to help a novice as we are a seasoned collector. We have an impressive selection not just of classics and new releases, but genres you may not be aware of, such as Japanese Pop, Polynesia, lounge, exotica, and novelty albums and soundtracks. We're also always spinning something in our store. For example, this week we've been spinning XTC and tons of holiday music too! To see our collection online, you can visit our Discogs page. But, visiting our store in the Cedar District is a lot more fun.
Events and More
Keep an eye on our events page on our website, or on our Facebook page. We sometimes host live music from local bands, DJs, and even podcasters. We love the change to put a spotlight on local talent. We also show up at various places in the DFW to peddle our awesome wares. Last weekend, we brought some webslinger selections to the Alamo Drafthouse Cinema's Spidey Weekend in Richardson!
We always have something new, so if you're shopping for your friends and family, you may find exactly what you're looking for when you visit our shop, such as shirts, toys, Pops, rarities, and more.
Visit Our Dallas, TX Record And Comics Store Soon!
If you need a new read or sound, we got your covered with a wide selection and a knowledgeable staff. To find out more about our new selections or where we'll be visiting next, contact Black Cat Records and Comics in Dallas, TX, by calling (469) 913-7079. We're open Tuesday through Saturday from 11amuntil 6pm, and are closed on Sunday and Monday. We hope to see you soon!