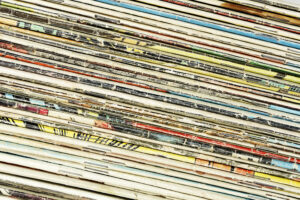 The holiday season is here! Which means we're spinning Christmas sounds in the store, and you're likely looking for something fun and unique to give your friends and loved ones, or maybe just for yourself. After all, it's been a tough year, you've earned it! At Black Cat Records and Comics, we have an extensive collection of vinyl, comics, manga, and more for you to check out!
Comics
Do you have a collector on your list, or someone interested in learning more about Spider-Man before the new movie comes out? We have an insane collection of the newest releases. But we're not just limited to the big titles from DC and Marvel. We're also proud to offer our customers access to the underground and indie issues, and foreign prints too. We have a large collection of back issues to look through as well, if you or someone on your list has a gap in their collection. Remember, we can also order whatever we don't have, so you can support a small business and not throw your money at another sad Jeff Bezos rocket launch!
Manga and More
We're so proud of our epic manga collection. We have works that span decades, from comics and graphic novels, to books, toys, statues, shirts, and more. In fact, we have Pop Vinyls and lots of other collectible items, not just limited to comics and manga. We also have movies too. Whatever your pop culture needs, we probably have it on our shelves or in a long box waiting for you!
Vinyl
We're always spinning something new in our store, and right now you're likely to find some unique holiday sounds! We strove to offer our customers a wide selection, from popular classic albums to genres you may not be familiar with. If you love music, you know how exciting it is to not only find a new artist, but a whole new genre you didn't know you needed. We have a collection of rare and deep dive records, including exotica, lounge, surf rock, soundtracks, novelty records, Polynesia, and Japanese Pop. You can also visit our Discogs page to see what we're spinning or to peruse our collection.
Live Events
Keep an eye on our website and social media to learn about upcoming events or live music! We often host local bands and DJs, industry favorites, and podcasters in our store. We loved to spotlight local acts whenever possible! This Friday, we'll be at the Alamo Drafthouse Cinema in Richardson with new products, including Sword Art Online.
Stop By Our Dallas, TX Record And Comics Store!
We have everything you need to make this the best Christmas ever. To find out more about our selection, contact Black Cat Records and Comics in Dallas, TX, by calling (469) 913-7079.