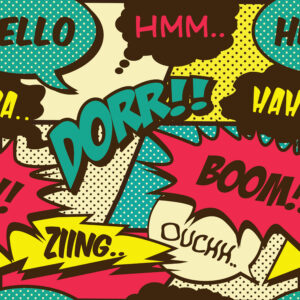 The Eternals just had their movie debut, Netflix has a One Piece series on the way, and a Kenobi streaming series will shed a light on what exactly Obi-Wan was up to for 20 years. If you've been curious about who these characters are, (and even hardcore comics fan would find it difficult to talk about The Eternals for more than 30 seconds) then you may want to turn to Black Cat Records and Comics!
Comics and Graphic Novels
We have a very wide and extensive collection of comics. We carry the latest issues, and have plenty of back issues for you to peruse and purchase. You can catch up with characters and storylines you've neglected, or take a crash course before the next movie adaptation comes out. We have individual issues, or you can pick up graphic novels and omnibus collections too. Remember, if we don't have it, then we can easily order whatever you need. You don't have to rely on a sketchy billionaire who uses your money to waste rocket fuel, we can help you find the issues you want!
Manga and More
You'll be hard pressed to find a better Manga selection in the DFW area! We have a wide selection that literally spans decades, with books, statues, toys, shirts, and more. We carry underground comics and also foreign prints too! Our customers are often shocked by our in-store selection, so why not check it out for yourself? Especially since the holiday season is around the corner. You can find the perfect, unique gift that speaks to your special someone's favorite obsession.
We Also Have Records
We just can't help but talk about our record collection. We have new and popular vinyl, classic albums, and the hard-to-find deep dive stuff too. From novelty records and forgotten gems of the past, to underground releases and more. You can see our collection in store or online through Discogs, and we're always spinning something new in the store. In fact, our employee playlist is often a great way for our customers to discover something new they may not have heard of otherwise.
We have a team of pop culture experts, who are here and ready to help you find what you need, or maybe what you didn't know you needed!
Stop By Our Dallas, TX, Store Today
If you want to go on a deep dive or just want to browse our selection, then stop by today. Visit us today in the Cedars District to find out what we have on hand, or if you have questions about our selections or items we could order for you, then please call Black Cat Records and Comics in Dallas, TX, at (469) 913-7079.