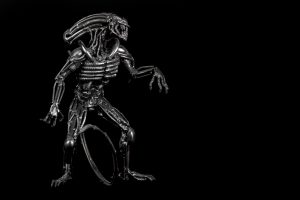 We're knee deep in the spooky season, which means binging horror movies, reading only the creepiest books and comics, and of course, maybe snagging a few terrifying collectibles. At Black Cat Records and Comics in Dallas, TX, we have a huge collection of figurines, Pops, and more, and we're also spinning plenty of spooky sounds in our store! If you need something creepy or downright terrifying for your shelves or record player, we got it.
Comics, Manga, and Graphic Novels
We have the newest and most popular comics in the industry, but we also have a huge selection of indie, underground, and foreign prints too. Horror has a long history in comics, from the old-school EC issues to modern classics like Blackwood and Family Tree. If you want something spooky to read, we're happy to show you what we have in stock, and to order what we don't. Don't forget, we also have an incredible Manga collection, including books, toys, statues and shirts. Of course, we also have Pop figurines and other horror-related shirts, stickers, and toys.
Records and Spooky Sounds
We're very proud of our extensive vinyl collection, with something for the novice or experienced collector. We have rare selections, and deep dive genres like Exotica, Lounge, Polynesian, Japanese Pop, and more. With the Halloween season here, we're also spinning plenty of spooky sounds in the store. From novelty songs to forgotten blues and jazz songs, and even soundtracks from classic horror films. If you're looking for something to get your place in the mood for all things creepy, or to boost the atmosphere of your Halloween get together, then stop by. You can also see what we're spinning on our Discogs page, or on our Facebook page.
We're so expected to be here in Dallas, and to help people in our community find the pop culture books, movies, and comics they crave. Everyone needs an outlet, and no matter how niche yours may be, we have something for you! Be sure to check out our calendar on our website and our social media pages to find out about upcoming events. We often host local bands and DJs, or may have visits from artists and writers. We even host podcasts too!
Stop By Our Dallas, TX, Store
If you're looking for something new and different, or you have that rare collectible you want to round out your collection, then stop by for a visit today. Visit us today in the Cedars District to find out what we have on hand, or if you have questions about our selections or items we could order for you, then please call Black Cat Records and Comics in Dallas, TX, at (469) 913-7079.