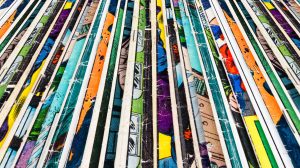 Do you enjoy collecting comics, or finding a new sound for your vinyl collection? Well, the only people more well-versed in pop culture than you would be our team! We love helping our customers find their next collectible item, or discover a new pop-culture obsession. At Black Cat Records and Comics in Dallas, TX, we have a wide array of selections, and if it's not in store we can likely find it!
Do You Like Comicbooks?
Whether you're an avid collector, or someone who's never picked up a comicbook in their life, we have what you need! Our employees are experts in popular titles, indie selections, and even hard-to-find foreign prints. We can guide you to titles that might interest you, or help you find what you need to round out your collection. Our store even has an underground selection too! If you like Manga, you'll be happy to find out that we have an epic collection, with titles going back decades as well as the newest selections too. Along with graphic novels and comicbooks, we also have toys, Pop figures, shirts, and novels too! You can check out our website and Facebook to see a bit of what we offer, but we recommend stopping by for a visit!
Second-to-Known Record Collection
Are you a vinyl connoisseur, or have you just started to build your collection of sounds? Well, we have a selection that caters to both collectors and music aficionados. We have a collection of rarities and gems, including very specific genres. Along with the rock and country classics, we have rockabilly and surf rock, lounge, exotica, Polynesia, Japanese Pop, and soundtracks. We also have novelty records too! In fact, all October our employees will be spinning some spooky sounds from our selection. Along with our vinyl, we also invite DJs and musicians to perform inside our space, from new and local acts to the best in the industry. You can get a taste of what you're missing by checking out our Discogs Listing.
If you have any questions about our records and comics, or any of our other collectibles, then give us a call. We'd be happy to answer your questions, and to also order or help you find anything we don't have. Our Dallas Cedar District location is open from Tuesday through Saturday from 11am until 6pm!
Stop by Our Dallas, TX, Store Today!
If you love collecting comics and records, and assume you can only find the rare stuff online, then stop by our store today. Visit us today, or if you have questions, please call Black Cat Records and Comics in Dallas, TX, at (469) 913-7079. Trust us, you will be impressed with our selection!