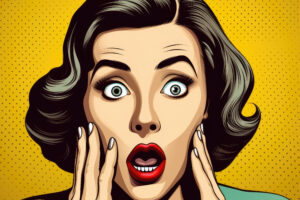 If you are like us, then you are amped up about the idea of Halloween. As the spooky season rolls in, swing by our shop and check out what we have to offer. With an amazing selection of horror and suspense comics, you can be ready for Halloween with your next favorite scary story. When those streaming sites just aren't getting the job done, come spend some time at your local comic shop!
At Black Cat Records and Comics in Dallas, TX, you can find something that really keeps you up at night. Whether you want a new comic to truly creep you out, or if you are looking for your favorite horror movie soundtrack on vinyl, we have you covered. We have suspense and horror comics, so come check out what we have to offer. While you are here, dig through our crates of records and get ready for your Halloween party!
Trick Or Treat? We Think Horror Comics Are Neat!
When you think about comic books, graphic novels, and manga, you might not immediately jump to a scary story. Well, there is more to the artform than just superhero tales. Popular movies have put those ideas at the forefront of everyone's minds, but these days, there is a comic book for every genre.
In fact, some of your favorite off-the-wall horror movies might even come from a comic writer. For example, did you know that the vampire film 30 Days of Night got its start as a comic book miniseries from IDW publishing? Some others straddle the line between superhero stories and horror fiction, including Blade and Constantine. Ask about these if you are just starting to dip your toes into this dark area of your fandom. This is the perfect time of year to check out something new!
Want To Upgrade Your Halloween Party? Pick Up A Horror Movie Soundtrack
If you are in the market for some new spooky tunes, know that Black Cat has you covered here, as well. With a large selection of horror movie soundtracks, you can show up to your next get-together armed with something awesome. Whether you like the minimal synthesizers of a John Carpenter movie like The Thing or the nostalgic 90s hits from Scream, we have something for you at our shop. Take a look at our Discogs page for our inventory, as these tend to move pretty quickly this time of the year!
Upgrade Your Halloween Experience With Black Cat Records 'N' Comics
If you want a bone-chilling experience this Halloween, stop by our shop in The Cedars. To find out more or to check our inventory, give us a call at Black Cat Records and Comics in Dallas, TX at (469)913-7079!