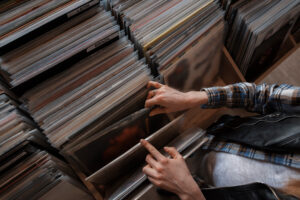 If you feel that you are stuck with the same old playlists for your summer activities, you are not the only one. While streaming services have brought musical accessibility to many, it can become easy to find yourself caught up in the songs that they suggest. At first, this might feel like a simple way to stick to what you love, but it can also make your musical tastes stay exactly where they are.
When you are looking for something outside of your normal listening, come spend some time with our helpful vinyl enthusiasts at Black Cat Records and Comics in Dallas, TX. With selections from all over the musical spectrum, there is bound to be something that both excites and interests you that you may not have considered before. From Japanese surf rock to Latin bootlegs, dive into our huge collection of amazing vinyl and find something truly special to share with your friends. While you are here, also check out our collectibles and comics!
Learn How To Enjoy The Hunt For A Special New Vinyl Record
For many vinyl collectors, the most rewarding aspect of their hobby is in the search for an amazing new record. This is because there is an almost meditative feeling to digging through crates of interesting music, with a new surprise at every turn. Each time that you flip to the next record, you have no idea what will come next!
Take some time to really appreciate this aspect of collecting at our shop, where you have everything that you need for an awesome listening experience. We have genres that may be outside of your current comfort level, which can be a great way to expand your thinking about music.
Share Your New Finds With Your Friends, And Blow Their Minds!
When you find something that is just totally out there, like an old 70s Latin punk album or creepy horror movie soundtrack, part of the fun is in seeing the looks on your friends' faces as they hear it for the first time. There is a sense of community for those of us who keep a vinyl collection as a hobby!
If you have been struggling to find that special something to surprise your friends, stop by our shop and we can point you in the right direction. We love helping people expand their concepts of what music is and what it can be.
Dig Through Our Crates At Black Cat In Dallas, TX
Finding the right record for your collection can take some time! Learn to enjoy this part of the process with our helpful team at Black Cat Records and Comics in Dallas, TX at (469) 913-7079.