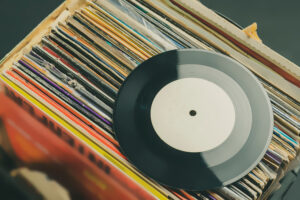 If you are a record collector, then you understand the simple joy that can come with pulling your favorite special record out of the sleeve. Like brewing a nice cup of team, the act is almost meditative, giving you the opportunity to fully enjoy the experience. Even housing and maintaining your record collection is an act of love, so you know the warmth of loving vinyl.
With Black Cat Records and Comics in Dallas, TX, you have a place where you can immerse yourself among the best records that the city has to offer. Stop by and spend some time with our team, and we feel confident that you will leave with your next favorite deep cut. Whether you are looking for something new and exciting or something comfortable and familiar, we are here to guide you to your next favorite record!
Dig In Our Crates To Find Something Truly Special
Finding the perfect new record for the summer can be difficult, and the search can take a little while as you figure out your vibe. When you stop in our record store, be sure that you take a full look around. And we mean really spend some time with our collection, as there are many treasures lying just beneath the surface!
For some people, the perfect record is something that brings back old memories. For others, they are looking for something unlike anything they have ever heard. From your old favorites to zany new artists, our team has something for your collection. Truly take the time to discover the interesting records and comics available at our shop.
Nothing Beats Showing Off That Rare New Vinyl From Your Collection
Let's face it: one of the reasons you love collecting records is in the community aspect. Collectors spend so much time in curating their best items, so it is only natural that they want to show others. If you are relying on internet websites for your records, you could find it a struggle. There is something unique and special about being physically among the records and seeing what stands out.
For rare records, we have you covered, so you can always have something new to show your fellow collectors and friends. Dig through our crates and find your next favorite rockabilly, psychedelic, or novelty record. We also have Japanese pop, which is always a hit with friends.
Discover That Special Record For Your Collection At Black Cat Records & Comics In Dallas, TX
If you have been looking for a place with some more variety in vinyl, stop by our shop in The Cedars. Visit us at Black Cat Records and Comics in Dallas, TX or give us a call at (469) 913-7079!