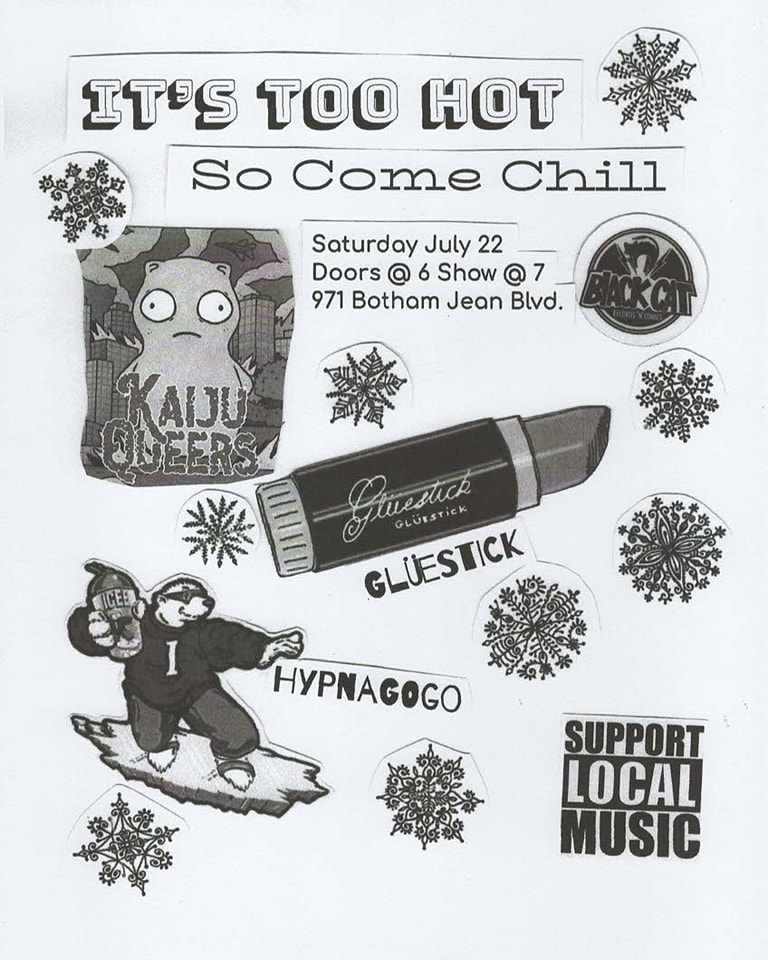 Summer in Texas is brutal and it's lucky we survive it. But that doesn't mean we shouldn't enjoy some live music! Our monthly music series continues with It's Too Hot on July 22nd! In today's blog, Black Cat Records and Comics in Dallas, TX, is talking all about our upcoming show. We hope to see you there, it's time to support local music!
It's Too Hot
Our music series continues! Every month, we host a show with live performances from amazing musicians in the Dallas scene. Our past shows, Destruction in Dallas, Mandatory Fun, and Slamaversary, featured performances from Cei Cei, Tiny Gxd, Inverted Candles, Corporatewhore, The Bom-bom-boms, and more. July's is called It's Too Hot, because well, both the weather and these performances are going to be too hot. See what we did there?
Local Music and Merch
The show takes place on July 22nd, with doors opening at 6pm and the show beginning at 7pm. As always, this takes place at our store on 971 Botham Jean Boulevard. This show will feature Hypnagogo, Gluestick, and Kaiju Queers.
Our Record Selection
There will be tons of merch from these bands, including shirts, CDs, vinyl, and more. Plus, you can check out our crates of vinyl. We have albums from local artists and indie musicians, as well as classics and new releases from major labels. You can peruse genres from around the world, from Japanese Pop and Polynesian, to surf, rod, exotica, lounge, soundtracks, and other rarities. You can also check out an album at our listening stations, and our team members are always spinning something new in the store. You can also see some killer staff recs on our homepage. If you don't have a record player, we have turntables available for purchase so you can start your newest obsession right.
Future Events
As we mentioned above, these live shows happen monthly, and we hope you'll attend the next ones too! You can follow us on Facebook and Instagram to see the latest news about these events. We also have popup shows at DFW events and occasionally at Alamo Drafthouses. If you have any questions about our selection, or about any future events, feel free to stop in or give us a call!
Visit Your Dallas, TX Record Store for the Best in Local Music
We host these incredible shows every month, so keep an eye on our social media for more details! You can contact Black Cat Records and Comics in Dallas, TX, by calling (469) 913-7079. Our store is open on Monday from noon to 4pm, Tuesday through Thursday from 11am until 7pm, and Friday and Saturday from 11am until 9pm. We're open Sundays from noon until 6pm.