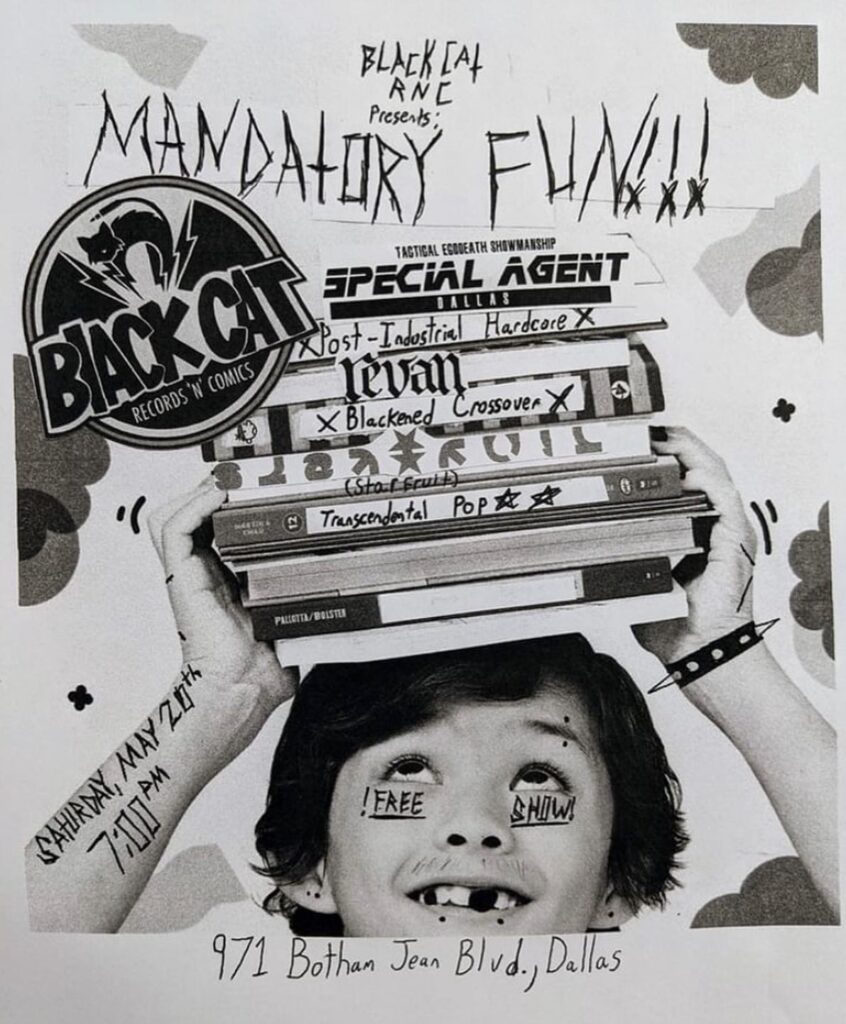 Did you miss our Destruction in Dallas live show in April, or did you attend and enjoy having your face rocked off? Then don't miss out on our big show Saturday! Mandatory Fun features performances from lots of local acts. Find out more about Black Cat Records and Comics' latest Dallas, TX, show!
Our Latest Live Show
Are you ready for an incredible live music event? Every month we're hosting a live music series, which features some of the best local acts in the DFW area. Last month, Destruction in Dallas included performances from Tiny Gxd, Inverted Candles, and Totally Cherry. This month, you'll be able to catch Revan, Special Agent, and Starfruit! The show takes place on Saturday, May 20th at 7pm. This show is going to be incredible, and you don't want to miss it! Plus, it's FREE. FREE!
Keep an Eye Out for Events
In addition to these amazing live music performances, we also have special guest Q&As with comic creators like Drew Edwards and Andy Hirsch. We also have a kickass sewing circle the last Friday of every month. Learn how to sew matches and more at our Stich N Bitch sessions, starting at 6pm. Plus, if there is a comic book movie coming out you know we'll have a popup shop at a nearby Alamo Drafthouse. Just pay attention to our Events page on our website, or follow us on Facebook and Instagram, so you don't miss out!
Our Vinyl Selections
Speaking of music, have you checked out our vinyl selection? You can dig through boxes of vinyl, both local and indie, as well as classic albums and big new releases. We have selections from every genre imaginable, and you can check them out at our spinning stations. You can also see our staff recommendations on our homepage, or hear new sounds being spun in the store each week. If you don't have a turntable, we have some for sale to get you started. There simply isn't a better medium for listening to music than vinyl. It is perfection, and we can help you find the perfect sound for you.
If you have any questions about upcoming events or about our record selection, give us a call. We're also open on Mondays now!
Visit Your Dallas, TX Record Store for Our Next Big Event!
We always have something happening at the store, so keep an eye on our social media pages! You can contact Black Cat Records and Comics in Dallas, TX, by calling (469) 913-7079. Our store is open on Monday from noon to 4pm, Tuesday through Thursday from 11am until 7pm, and Friday and Saturday from 11am until 9pm. We're open Sundays from noon until 6pm.