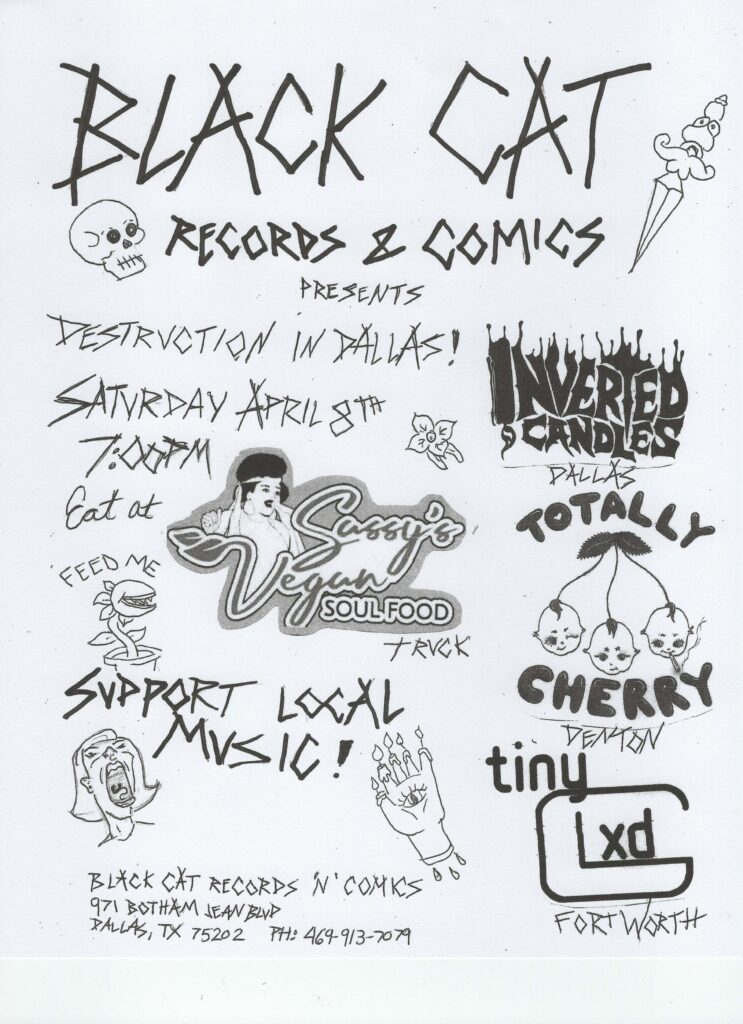 Do you have big plans for Saturday? Well, clear your schedule because your plans will pale in comparison to our live music event! We're hosting Destruction in Dallas, with live performances from amazing local acts. In today's blog, Black Cat Records and Comics is talking about what to expect from this and future events!
Our Live Music Event
We're bringing live music to our store! Our Destruction in Dallas event is happening this Saturday at 7pm. You can catch performances from awesome local acts like Inverted Candles, Totally Cherry, and Tiny Gxd. You can also grab amazing food from Sassy Vegan Soul Food. This will mark the first event in what we hope is a monthly music event. Be sure to clear your schedule, we can't wait to see you!
Future Events
Be sure to keep a close eye on our Events page on our website, and our Facebook and Instagram pages. We've hosted record release parties for local musicians, and also live Q&A sessions with comic creators. If there's a major holiday on the horizon, we're probably hosting a party for it, and we also make appearances with pop up shops at the Alamo Drafthouse to peddle our comic book movie-related wares. Don't miss out on the next big event, which we can't wait to announce!
Albums and More
We love music, and we love our local scene. In addition to carrying albums from major acts, we also carry indie records and albums from pretty much every genre imaginable. We would love to help you find your next favorite band. We're always spinning new sounds in-store, and you can see some staff recommendations on our homepage. We also have listening stations so you can check out an album before you purchase. If for some reason you can't make it to the store in person, then check out our Discogs page. If you're about to say "Well, I don't have a record player" then just stop right there. We have turntables available to buy, so you can start your journey to vinyl snobbery!
If you have any questions about our events, please reach out by phone, email, social media, or in prison. We hope to see you Saturday, and at all of our upcoming events!
Stop By and Say Hello to Your Dallas, TX Record Store Team!
From live events to extensive collectible selections, we're you're one stop shop for all thigs music and pop culture. You can contact Black Cat Records and Comics in Dallas, TX, by calling (469) 913-7079. Our store is open from Tuesday through Thursday, 11am until 7pm, and Friday and Saturday from 11am until 9pm. We're open Sundays from noon until 6pm. Record shoppers can make appointments for Monday.