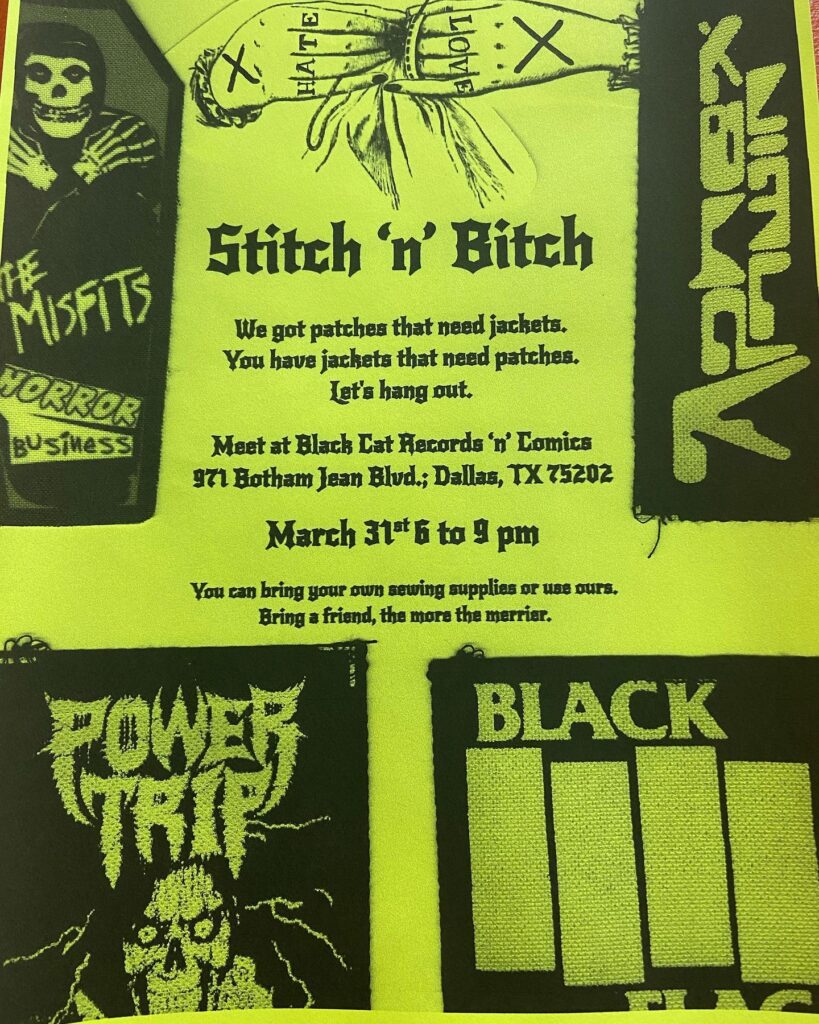 We're always hosting fun events in our store. From now through the end of March, you can stop by each day and sew with us! We also have an experience music event next month. In today's blog, your Black Cat Records and Comics in Dallas, TX, is talking about two of our fun upcoming events.
Stitch 'N Bitch
Do you love to sew? Do you have a jacket that needs a patch or two? Then be sure to attend our Stitch 'N Bitch event each day from 6pm to 9pm at the store. This is happening from now through March 31st. You can bring your own supplies, or use the ones we have available. Don't hesitate to bring a friend or two either! You can add a little punk to your favorite jeans or jacket, and we can help!
Don't Forget About Destruction in Dallas
On April 8th at 7pm we're hosting a live music event we're calling Destruction in Dallas! This will take place in store and be the first of our monthly music series. You can enjoy food from Sassy Vegan Soul Food, and see live performances from amazing local bands, including Totally Cherry, Inverted Candles, and Tiny Gxd. Don't miss out! Also, be sure you're keeping an eye on our Facebook and Instagram pages, and the Events page of our website. We don't want you to miss future events, as we've hosted live Q & A sessions with comic creators, holiday parties, popup shops, and more.
Comics, Manga, and More
Don't forget that in addition to being the premiere place to see local acts, and the best damn sewing circle in the DFW area, we have an insane collection of comics and manga. Decades of storylines, both from major publishers and indies too. You can also find tons of related collectibles, such as toys, action figures, figurines, board games, stickers, shirts, and books. Our vinyl record selection is one of the best, and we have turntables for sale to get you started. If somehow we don't have something you're looking for, we can order it for you too!
If you have any questions about our big upcoming events, or about our selection of comics, manga, records, and more, then contact our team today! You can also stop by Tuesday through Sunday, or make an appointment to buy records for Monday.
Visit Your Dallas, TX Record Store Team Today!
We hope to see you for a little sewing fun. To learn more about our upcoming events, you can contact Black Cat Records and Comics in Dallas, TX, by calling (469) 913-7079. Our store is open from Tuesday through Thursday, 11am until 7pm, and Friday and Saturday from 11am until 9pm. We're open Sundays from noon until 6pm.