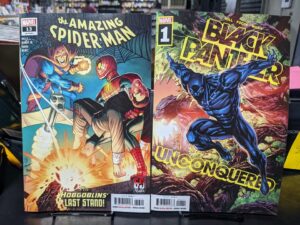 We often have popup shops at events across DFW, and starting today we'll have one in honor of the Black Panther sequel! You can catch us at the Alamo Drafthouse for Wakanda Forever's premiere. In today's blog, Black Cat Records and Comics in Dallas, TX, are talking about our big event this weekend! You have three days to check out our epic popup shop!
Wakanda Forever
The long-awaited sequel to 2018's Black Panther is here! This is a huge film, not only addressing the tragic loss of Chadwick Boseman, but this also introduces a classic Marvel villain, Namor. Early reviews have been overwhelmingly positive, with director Ryan Coogler creating an epic sequel that isn't afraid of finding time for character moments and meditations on death. This one is going to have everything, which is why we're so glad we'll be there with a popup shop!
Visit Us Today
We'll have a shop at the Alamo Drafthouse Cinema Cedars, located at 1005 South Lamar in Dallas, TX. We'll be there today, tomorrow, and Saturday from 5om until 9:30pm. As with our popup shops for Spider-Man: No Way Home and One Piece, we'll have plenty of selections related to the movie. We'll have new and classic issues of Black Panther, graphic novels, toys, and more. If you stop by and like our selection, then you should definitely visit our store. We're open Tuesday through Sunday, and even though we're closed Monday, vinyl shoppers can make an appointment to see our selection. You can also see our records online via our Discogs page too!
Comics, Manga, and More
We love all things pop culture! We have an impressive array of comics, both new releases and plenty of stuffed long boxes. We have decades of manga storylines available to buy, as well as games, statuettes, figures, toys, POP figurines, and more. If we don't have what you're looking for, then let us know, and we can likely order it for you!
Be sure to keep an eye on our Facebook page and the events page on our website, so you can be ready for our next big event. We have some big plans for December, and we can't wait to let you know all about it!
Stop by and Visit Your Dallas, TX Record Store Today!
We love hosting these events, and hope to see you this weekend at Alamo Drafthouse Cedars! To learn more about our expansive selection of comics and records, then you can contact Black Cat Records and Comics in Dallas, TX, by calling (469) 913-7079. Our store is open from Tuesday through Thursday, 11am until 7pm, and Friday and Saturday from 11am until 9pm. We're open Sundays from noon until 6pm.