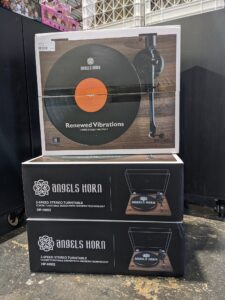 Do you want to start listening to vinyl records, enjoying your favorite albums and new sounds in the best possible quality? If so, you need a way to play them! Fortunately, we have turntables for sale to get you started. In today's blog, your Black Cat Records and Comics store in Dallas, TX, talks about our vinyl selection!
Turntables
We have Angels Horn Renewed Vibrations turntables available for purchase. These have a classic look but modern technology to ensure a fantastic sound and a gentle touch for your records. They offer to speeds, and can help you start your vinyl journey. Of course, you may want to upgrade your setup down the road, but this is a great way to get started!
Vinyl Records
We have a massive collection for you to peruse. You can find classic albums, new releases, and tons of albums from Texas acts of any and all genres. We also have genres you may not be familiar with, such as Lounge, Exotica, Polynesia, Japanese Pop, Rod, Surf, and even soundtracks and novelty records. If you're after a specific album that we don't have in stock let us know! We can likely order it for you. We also have spinning stations so you can listen to one before you purchase, and we have staff recommendation playing in the store each week.
Discogs
If you prefer to stay in, you can also see our selection on our Discogs page, and can even order directly from there and have selections end to your door!
Staff Recommendations
We have some new staff recommendations on our website, so check out our homepage. We're currently listening to God Willin' and The Creek Don't Rise by Ray LaMontagne, the soundtrack for Stubbs the Zombie, Crypt of Ice by Frozen Soul, 29 Demos by Margo Guryan, and the awesome collaboration album from Khruangbin and Leon Bridges called Texas Moon. Keep an eye on our homepage and social media, as we're always recommending something new, or showcasing the additions to our selection.
If you have any questions about our turntables and albums, or about our comic and manga selection, then give us a call, or even better, stop in today! We're open six days a week, and on Monday vinyl purchasers can arrange an appointment to visit the store.
Stop By and Visit Your Dallas, TX Record Store!
Our team is here with everything you need to enjoy classic albums and new sounds. To learn more about our selection, then you can contact Black Cat Records and Comics in Dallas, TX, by calling (469) 913-7079. We also have new operating hours! Our store is currently open from Tuesday through Thursday, 11am until 7pm, and Friday and Saturday from 11am until 9pm. We're open Sundays from noon until 6pm.