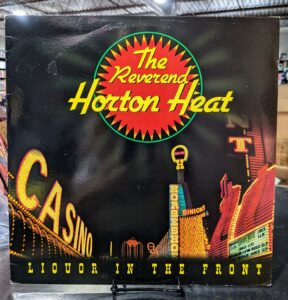 We have an incredible selection of vinyl records, with artists and voices from around the world. But we also have some truly original Texas voices too! In today's blog, Black Cat Records and Comics in Dallas, TX, is looking at a few amazing Texas musicians we're featuring in store. You can check them out in-person, or visit our Discogs page!
UGK
Pimp C and Bun B made up the Port Arthur hip-hop duo UGK, and completed six studio albums. But their magnum opus was their self-titled album, released shortly before the death of Pimp C in 2007. They sounded like no one else, and are Texas hip hop legends alongside Scarface and Z-Ro.
Oceans of Slumber
There isn't a musical genre around that doesn't have a Texas band as one of their best. Prog metal is no different. Oceans of Slumber has been on the scene since 2011 and recently dropped a band-new album, Starlight and Ash.
Roky Erickson
Roky Erickson pioneered psychedelic rock in the 60s, embraced hard rock after a stint in a state hospital during the early 70s. After years of mental health and leg struggles, he returned to music in 1995 and continued to perform until his death in 2019.We not only have Roky's albums, but a various artists album that he signed called Guillotine.
Lightnin' Hopkins
One of the greatest blues musicians ever, his influence can be felt in just about every blues or rock artist to come from Texas. A true legend.
Les Baxter
A great swing dance musician, he also created soundtracks for Roger Corman films and the theme park SeaWorld!
True Stories
Did you know David Byrne of the Talking Heads made a movie in the 80s set in a small Texas town, and starring John Goodman? If not, go watch it now. Then pick up the soundtrack, which we have!
Bob Wills
You wouldn't have swing country without Bob Wills and the Texas Playboys! His career had plenty of ups and downs, but he remains a Texas legend.
The O's
A Texas country-rock duo who deserve to be household names. There, we said it. Their website may be no more, but we have their albums!
The Reverend Horton Heat
The Reverend Horton Heat is a street-preacher style singer with a sound all their own. No matter what you listen to, you'll appreciate a little Psychobilly Freakout.
Ornette Coleman
From Fort Worth, Ornette Coleman is known for his unique approach to jazz improvisation, with a style all his own.
Leon Bridges & Khruagnbin
Leon Bridges and the soul psychedelic trio Khruagnbin have teamed up for two soulful EPs dedicated to the Lone Star State, Texas Sun and Texas Moon.
Talk to Your Dallas, TX Record Store Soon!
We would like to help you find new sounds and voices, especially ones from Texas! To learn more about our music selections, then you can contact Black Cat Records and Comics in Dallas, TX, by calling (469) 913-7079. Our store is currently open from Tuesday through Saturday, 11am until 6pm. We're ready to help you find your latest pop culture obsession.