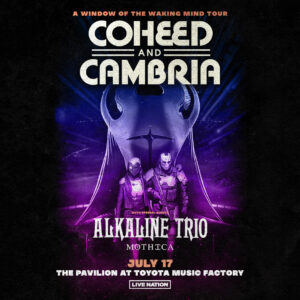 We're open and here for all your comics, manga, and record needs. But in addition to being your source for games and collectibles, Black Cat Records and Comics in Dallas TX, will also be giving away two FREE tickets for Coheed Cambria's performance on July 17th. Find out more, including how to enter, in our latest blog.
Our Ticket Giveaway
Simply visit our Facebook page and comment on our posts about the ticket giveaway. We will then choose two winners at random, and tickets will be available at the box office the day of the show. The contest is taking place on July 17th at The Pavilion at Toyota Music Factory. If you're dying to see their A Window of the Waking Mind tour, this is your chance!
Events
In addition to this ticket giveaway, keep a close eye on our Facebook and Event pages. We're going to be hosting fun giveaways and events, including performances at the store from local and national musical acts, DJs, podcasters, and more. We also make appearances with Popup shops at Alamo Drafthouse for premieres and other events in the DFW area. Don't forget that our doors are now officially open, and you can stop by anytime from Tuesday through Saturday, 11am until 6pm, to see what we have in store!
Comics, Records, and More
We're so excited to have our doors open! We have an epic collection of comics, from the most popular new titles to classics and back issues, including indie and foreign prints. If you love manga, we probably have one of the best selections in the DFW area, with decades of storylines and titles available. Of course, we also have collectibles too, from toys and action figures to statues, pins, stickers, shirts, and books. You can pick up board games too. If you love vinyl records, we have a massive selection of classic albums, new releases, and deep dives into genres you may not be aware of. You can try them out at our listening stations, and even pick up a turntable to give your new purchases a listen. We also spin new records each week from our staff, and you can see what we have online with our Discogs page.
If you have any questions about our stock, then give us a call! We hope to see you soon.
Visit Your Dallas, TX Record Store Soon!
Be sure to check out our Facebook page and enter our contest! To learn more about upcoming giveaways or events, then you can contact Black Cat Records and Comics in Dallas, TX, by calling (469) 913-7079. We're going to be open Tuesday through Saturday from 11 am until 6 pm, and will be closed on Sunday and Monday, so make an appointment today!