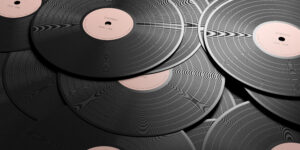 There are a lot of ways to listen to your favorite music, you could enjoy the compressed digital option, or the flat sound of a CD. You could even grab a cassette for some reason! But the best way to listen to the music that moves you, is with vinyl. In today's blog, Black Cat Records and Comics in Dallas, TX, talks about our vinyl selection.
An Epic Record Selection
We have tons of records ready for your perusal. You can even try them out at our spinning stations and give them a listen. You can pick up the latest releases, classic albums, and check out plenty of options from popular genres, like pop, rock, and country. But we're also ready to change your life with genre deep dives. We have Japanese Pop, Polynesia, Lounge, Rod, Surf, and even soundtracks and novelty vinyl. Our team loves music and loves connecting people with new sounds, so talk to us about what you're into, and we may be able to find you something new. You can also check out our selection online at our Discogs page, and you can even order from there as well.
Spinning New Sounds and Staff Picks
When you come into the store, you'll hear a different album every week, and you can also see our staff picks on our homepage. This is another great way to find a new sound to inspire you. Don't forget, we also have comics, manga, graphic novels, toys, shirts, and tons of other collectibles for you to check out too!
Picking Up a Record Player
This week we got turntables! If you don't have a turntable, you can grab one today with your album purchase. Can we guarantee you won't fall down a rabbit hole of finding the perfect seekers and setting up an insane system at home to enjoy your new vinyl purchase? No. And we wouldn't have it any other way.
Be sure to keep an eye on our Events page and our Facebook, as we're always attending new events and pop-up shop appearances across DFW. We'll also be welcoming musical acts both local and national, as well as DJs and podcasters too. If you have any questions about our store or what we have in stock, give us a call today!
Stop By and Visit Your Dallas, TX Record Store Today
We're open and ready for you to buy things from us, it's your lucky day! To learn more about our stock of records and other collectibles, you can contact Black Cat Records and Comics in Dallas, TX, by calling (469) 913-7079. We're going to be open Tuesday through Saturday from 11 am until 6 pm, and will be closed on Sunday and Monday, so make an appointment today!