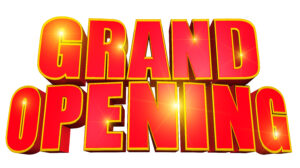 For months now, visiting our store meant you needed to make an appointment, or check out our popup shops at Alamo Drafthouse. But now? As you can tell from our epic stock image, our doors are open! Our soft opening is happening now, and you can attend the grand opening of Black Cat Records and Comics in Dallas, TX, on June 17th!
The Soft Opening is Happening NOW
If you've wanted to visit our shop, you can finally do so! We're closed on Sundays and Mondays, but you can visit from Tuesday through Saturday from 11am until 6pm. We're located at 971 Botham Jean Blvd in Dallas, TX. What makes a soft opening different from the grand opening? Who knows, we're just too excited by the prospect of your visit to care! You can finally see our insane selection of comics, manga, records, and more in person. Tell your friends, tell your family, consider making amends with your enemies and telling them too!
Our Grand Opening Event
Our Grand Opening Event will be happening on Friday, June 17th. We'll have details about what to expect on the big day soon, until then just mark your calendars.
Comics, Collectibles, and More
We've been amassing an amazing selection for our customers. If you were impressed by what we had at our Alamo Drafthouse popup shops, you've only glimpsed what we have. Our comics include the latest titles, as well as indie comics and plenty of long boxes packed with back issues. You can find foreign prints, underground issues, and more. If we don't have it, we can order it for you! Our manga selection is also insane, with decades of storylines valuable so you can fill the holes in your collection, start from the beginning, or talk to our staff about finding the best storylines for you. We also have tons of other collectibles, including toys, action figures, statues, POP vinyls, and more.
Our vinyl records include classic albums and popular new releases, as well as tones of genre deep dives. You can try them out at our listening stations, and we're always spinning new sounds in our store every week. If you have any questions about when we're open or about what we have in stock then contact our team today to learn more.
Visit Your Dallas, TX Record Store Soon
We're so happy that our doors are finally open! To learn more about our amazing selection of comics, manga, and more, you can contact Black Cat Records and Comics in Dallas, TX, by calling (469) 913-7079. We're going to be open Tuesday through Saturday from 11 am until 6 pm, and will be closed on Sunday and Monday, so make an appointment today!