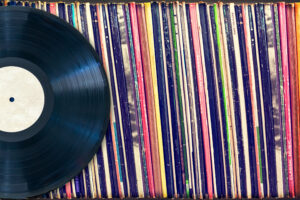 We love records, it's even in our name! We have a crazy selection of classic albums, new releases, and hard to find genre albums to choose from, which you can see in-person or order online through Discogs. In today's blog, the team at Black Cat Records and Comics in Dallas, TX, are taking a look at what we're spinning in our store, and what we have for sale!
Our Record Sale Event
Last weekend we had our first in-store event! Our $1 record sale was a success, we sold records, comics, and more, and finally got the chance to host an event in our store! While we're not open yet and are still completing a few final construction tasks, you can still browse our selection in-person by making an appointment. Give us a call at the number below, or message us on Facebook to arrange a time to see our stock in person.
Genre Deep Dives and More
We love vinyl. Records offer a rich and vibrant sound, and a warmth that you can't get from digital. If you're a collector, or someone just starting to appreciate vinyl, then you should check out our selection. We have modern releases, classic albums, and even genre deep dives. You can find a collection of eclectic novelty albums, soundtracks, and genres you may not be familiar with, like Japanese Pop, Polynesian, Lounge, Exotica, Rod, Surf, and more. Whether you know exactly what you want, or are open to something new, we can help. You can also see what we're spinning in store or preview an album with our spinning stations. We also have staff picks on our website! This week, we're featuring Sérgio Mendes and Brasil '66, Les Baxter's Tamboo, Duane Eddy's Twistin' 'N' Twangin', Arthur Lyman's Taboo, and The Beatles' Yesterday and Today. You knew there would be a Beatles album on that list, it's unavoidable.
Discogs
You can also check out our selection online through our Discogs page! You can see what we have on hand, and even order online and have them delivered right to your door!
Schedule an Appointment
If you want to see our stock in person before we officially open our doors, you can schedule an appointment as we mentioned above. We love the chance to show you around our store, so talk to us today to learn more!
Visit Your Dallas, TX Comic Book Store Soon
Just try and find a better selection of vinyl in the DFW area, we dare you! To learn more about our epic vinyl collection, you can contact Black Cat Records and Comics in Dallas, TX, by calling (469) 913-7079. We're open Tuesday through Saturday from 11 am until 6 pm, and are closed on Sunday and Monday.