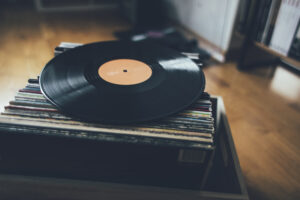 Even as CD sales continue to tumble, more and more people are embracing the OG physical media. Vinyl records are setting records, and people love the warm sound quality. Whether you're an experienced collector, or just now starting to dive into the world of vinyl, Black Cat Records and Comics in Dallas, TX, is ready to help!
Finding Your Favorite Albums
You'll be surprised at how vast our selection actually is! We have classic albums and old favorites, if you want to build your collection from the ground up. You can also find less popular and harder-to-find gems. We have a team who loves to collect and listen to vinyl, and can help you find your new favorite sound. We're spinning new sounds weekly in our store, and we have listening stations so you can give something a spin before you purchase it.
Discovering New Sounds
We're here to help you on your genre deep dive. We have undergoing and indie releases, novelty albums and soundtracks, and tons of genres you've probably never listened to! You can try Rockabilly, Lounge, Surf, Rod, Exotica, Japanese Pop, Polynesian, and more. Just let us know what you enjoy listening to, and what sounds appeal to you, and can direct you to something new and amazing.
Order Online
We love seeing people visit our store, but we understand that due to the pandemic some people prefer to avoid stores. Don't worry! You can visit our Discogs page and see our selection. You can even order online and we will ship to you. Whether you want to visit us online or in-person we can help you find your new favorite record.
Live Events
Keep an eye on our Events page on the website, and be sure to follow us on Facebook. That way you can find out about any events we're hosting in our store! We love shining a light on the local music scene, hosting local bands, DJs, and podcasters. We also have amazing acts visiting our store for surprise performances, including some big names in the industry.
If you have any questions about our record collection, or about even upcoming events or performances in our store, please give us a call to stop by and see us. We're here and ready to help people in our community find their next sound, comic, manga, or hard-to-find collectible.
Visit Your Dallas, TX Comic Book Store Today
We would like to help you find your favorite new sounds with our vast and extensive collection! To learn more about our records, you can contact Black Cat Records and Comics in Dallas, TX, by calling (469) 913-7079. We're open Tuesday through Saturday from 11 am until 6 pm, and are closed on Sunday and Monday.