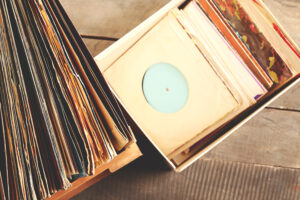 If you're looking for new albums for your collection, or if you'd like to start listening to vinyl for the first time, then consider stopping by your Dallas, TX, shop! At Black Cat Records and Comics, we have a ton of records too choose from, from popular selections to genre deep dives. 
A Wide Selection
We love music, and have a special love of vinyl records. Which means when you come into our store and talk to our team, you'll find people just as music obsessed as you. Do you have a special niche in the music world? Then odds are we've heard of it too! We have a wide selection of classic albums, modern hits, and even harder to find genre deep dives. 
Genres
When you browse our selection, you can take an album to our spinning stations to check them out before you buy them. We can also offer deep dives into rare genres, such as rockabilly, surf rock, and rods, as well as exotica, lounge, and Polynesia. We have Japanese pop, soundtracks, and even rare novelty albums. We look forward to helping people find their new favorite sounds, and come home with a new appreciation of a genre they may not have heard of before they stopped by!
Spinning Sounds
Every week we're spinning new sounds in our store, and our staff definitely picks some wonderfully eclectic stuff. To see what we're spinning, and to browse our selection without ever leaving home, you can visit our Discogs page! Remember, if you find something you desperately need, we can easily ship to you. We love seeing your customers in-person and helping them find their new favorite album, but we also understand that the pandemic makes these excursions unsafe for many people. If this is the case, you can check out our records online, or even give us a call to find out what we have and how we can best ship to you. 
Live Events
Be sure to keep a close eye on our Facebook account and our Events page! We sometimes host live music from local DJs, bands, and podcasts. We love to spotlight local talent! If you have any questions about our selection or our store, feel free to give us a call at the number below, or contact us through try website or Facebook. We would also love to see you in person! 
Stop By Our Dallas, TX Record Store Today
Our team wants to help you find a new sound to get 2022 started right! To learn more, you can contact Black Cat Records and Comics in Dallas, TX, by calling (469) 913-7079. We're open Tuesday through Saturday from 11 am until 6 pm, and are closed on Sunday and Monday.