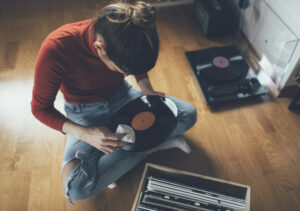 There are few things better than perusing in a record store. Whether you are looking for a specific gem to fill out your collection, or you are just browsing for something for anything that strikes you, going to a physical music store is an unbeatable experience. Sometimes, however, you're not in a place that has many options. Luckily, we can ship you records via our Discogs page. In today's blog, Black Cat Records and Comics lets you know about our online catalog and the other offerings we have. 
Show Off Your Collection
If you are not aware, Discogs is a great tool to catalog your existing record collection for your own pleasure or to buy and sell items from individuals and shops. Our Discogs page is up-to-date to showcase what we have in store and what we can sell to you — no matter where you are located. Unfortunately, not everyone has a stellar record store close to them that they can browse at their leisure, which is exactly why we are happy to ship anything from our vast record collection straight to your door. You can also use our page to see what we have in stock, in case you want to come in and grab it directly from our shelves. 
We Have Comics Too
Whether you are rekindling your love of Spiderman because of the new movie, or you want to find a new favorite in our stacks, we have comics available too. Like cheese and wine, comics and records are a classic combo; what's better than sitting in front of your speakers, flipping through your newest pick-up? Not very much, so we are here to encourage you to indulge in this pairing. We have the latest superhero releases, but we also have a fantastic collection of underground and indie works too. What's more, is that our manga selection is one of the most comprehensive around. Plus, we have related toys, statues, shirts, and books.
Wait, There's More
We are also proud to host an array of events in our store. We've had musicians, DJs, podcasters, and more visit our spot for performances and live showings. It is important to showcase the creators of the sights and sounds we hold so dear, and we are happy to have them grace our shop. Make sure you keep an eye on our Facebook and event pages, so you can stay in the know whenever a cool new happening is going on. You don't want to learn about it from all your friends once it's too late. 
Visit Our Dallas, TX Record And Comics Store
Whether you are shopping for a record online, or you are perusing our comics in-store, we can't wait to help you find the perfect item for your listening or reading pleasure. To learn more, you can contact Black Cat Records and Comics in Dallas, TX, by calling (469) 913-7079. We're open Tuesday through Saturday from 11 am until 6 pm, and are closed on Sunday and Monday.