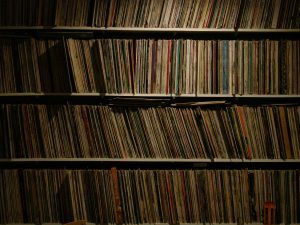 If you're looking for a new sound, or if you have a collection with a missing LP, then you may want to stop by Black Cat Records and Comics in Dallas, TX. Our Cedar District location has experts on hand who love vinyl even more than you, and can help connect you to new artists, underground sounds, and more!
Our Extensive Vinyl Collections
We're proud of our vast array of records. We have the newest releases, special editions, and even a wide selection of rare and deep cuts. If you're unsure about an album, then you can take it to our spinning stations and try them out. We love having these stations because it makes it so easy for people to try our new sounds and may even discover an entirely new genre!
Unique Sounds
We have the classic and modern hip hop, rock, and pop selections. All the classics and must-haves for any collection. But we also have some genres you may not be familiar with! You can find an extensive array of rockabilly and surf rock, exotica and lounge, and a ton of Polynesia and Japanese Pop. You can also find rare and obscure novelty records and soundtracks too. If you're looking for an album that is hard to find, then odds are we can order it if we don't already have it in stock.
Check Out Our Discogs Page
Be sure to visit our Discogs page! There you can see what we have in stock and order online, or stop by the store to pick it up. Here you can get a taste of our wide and eclectic mix of sounds and artists. You can also visit our Facebook page, where we've been showcasing some of our Halloween-themed novelty records and soundtracks. We also have new sound spinning in our store, so you never know what you may discover when you stop by our Cedar District location!
Live Events
In addition to our weekly playlists and staff selections, we often host live events too. We've had local DJs and indie bands, and even some of the industry's most popular artists, stop by for live music and entertainment. Keep a close eye on our events page and our social media for more information.
Visit Our Dallas, TX, Store Today
Whether you're an avid record collector or someone just starting to appreciate vinyl, we can help you find a new sound or maybe even a new favorite artist. Visit us today in the Cedars District to find out what we have on hand, or if you have questions about our selections or items we could order for you, then please call Black Cat Records and Comics in Dallas, TX, at (469) 913-7079.